Chevrolet releases new Art Spark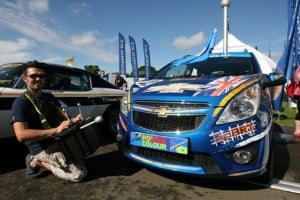 Chevrolet has unveiled its newest art-themed Spark model at the Dunlop MSA British Touring Car Championship.

Launched by artist Ian Cook at Silverstone, the Chevrolet SpART takes inspiration from old models by the manufacturer, as well as its global racing liveries.

It also illustrates the 27-year-old artist's methodical approach, which he uses to create pieces of art using remote control cars, used tyres and acrylic paint.

The blue Chevrolet is one of a number of new art-themed Spark cars, including the Spark DJ Car and the Spark Woody Wagon, the latter of which is aimed at surfers and beach lovers.

The company states: "With an extended aerial completing the tribute to the remote control car, Cook's latest artistic tool is the latest in a series of Art Sparks created by Chevrolet Europe in the past year."

Meanwhile, Chevrolet recently showcased three generations of its iconic Camaro model at Silverstone as part of the same championship, including a replica of the Richard Lloyd British Saloon Car Championship Camaro Z28 from the early 1970s.