Chevrolet unveils new art Spark model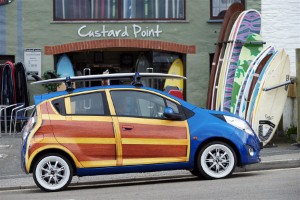 Chevrolet has announced the release of a new special edition version of its popular Spark supermini.

The Spark Woody has been created to coincide with the Boardmasters surf, skate and music festival in Cornwall and is set to feature at the Paris Motor Show in October.

Based on the Chevrolet Spark, the model's exterior is inspired by surfers' historic preference for 'woodys' - cars with timber-framed bodies ideal for transporting large boards.

It features a Di-Noc woodgrained vinyl panelling to achieve the woody effect, supplied by Pyramid Visuals of Weybridge.

The new car is one of many art models created by Chevrolet in Europe over the past year, including the Spark DJ car.

Chevrolet states: "The car recalls the dawn of the surf movement in the USA.

"The Spark Woody will go on to star at the grand final of this year's Young? Creative? Chevrolet! arts competition in Paris."

Another art model is set to be released later this month at Silverstone racing circuit, designed by British artist Ian Cook.

The Chevrolet Spark range begins at £6,945.