Chevrolet to unveil Orlando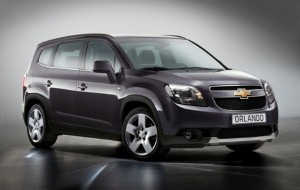 Chevrolet is set to unveil four new models at the Paris Motor Show on September 30th.

Taking centre-stage will be the Orlando family MPV, a seven-seater based on the show car concept which first appeared at the exhibition in 2008.

With a low-swept roof line and 18-inch wheels, the new car adopts a bolder body while maintaining the classic Chevrolet style.

Wayne Brannon, president and managing director for Chevrolet Europe, said the Orlando has "function with attitude".

"We're confident the Orlando not only brings great value for money to the MPV class but also something fresh. I believe it will also bring more new customers to the Chevrolet brand," he added.

Family-friendly features include large storage space, a fuel-efficient engine, air bags and air conditioning.

Chevrolet expects to begin full production on the Orlando in October with a view to making it available to the public in early-2011.

The company continues to roll out its 'Art' series of Chevrolet Spark models, the latest being a car designed by Solihull artist Ian Cook.