Chingford Vauxhall Brings Funding Boost For Ilford Inter-Generational Choir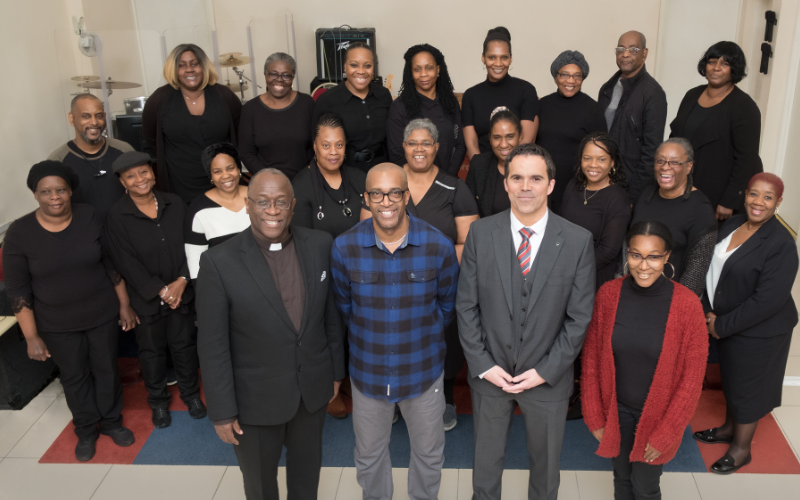 Bristol Street Motors Chingford Vauxhall has given a welcome boost to an inter-generation choir project, with a donation of £1,000.

The Ilford Inter-generational Community Choir is a music-based project, to encourage the collaboration of generations from within the Ilford local community and its neighbouring boroughs, to work together on a multi-platform, shared musical goal. The project aims to cover the London Borough of Ilford, one of the capital's most diverse communities bringing people together in purposeful, mutually beneficial activities, which will promote greater understanding and respect between generations and cultures.

Ilford Inter-generational Community Choir was chosen to receive the funding after the neighbourhood project applied to the Social Responsibility Awards, a community initiative backed by Vertu Motors plc, the Group which operates Bristol Street Motors.

The donation will help support the project, which will provide participatory singing, learning and music activities, engaging all sections of the community, providing an opportunity where people of all ages can learn together and from each other, through music.

Revd' Benham Nelson, director of Ilford Intergenerational Community Choir said: "This donation will enable us to conduct a series of workshops with a cross-section of members of our communities, who wouldn't necessarily have an opportunity to meet and get to know each other.

"Inter-generational activities help to build the foundations of an inclusive, tolerant and cohesive society.

"We thank Bristol Street Motors Chingford Vauxhall for the kind donation, which will help to make a real difference in the lives of people living in Ilford."

Nick Locke, general manager of Bristol Street Motors Chingford Vauxhall, said: "The Ilford Inter-generational Community Choir is a valuable asset in the local community. It provides a tangible improvement to community wellbeing.

"We are delighted to support the initiative and hope it continues to offer residents an opportunity to be part of something special and feel part of the whole community."

Vertu Motors plc is working in conjunction with New Testament Church of God (NTCG) to deliver community-based social support schemes which offer opportunities for local people to improve their wellbeing through its Social Responsibility Programme.