Citroen Confirm All-New C4 And E-C4 Details Ahead Of Autumn Sales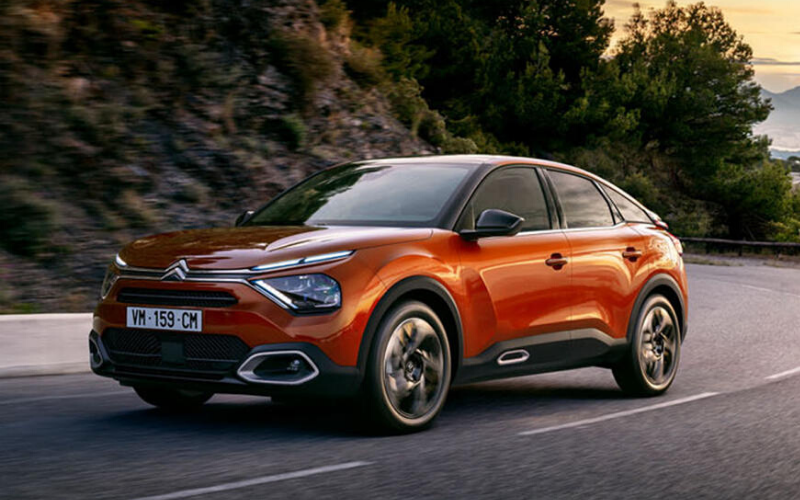 The New Citroen C4 and e-C4 have been officially launched! Citroen have now confirmed details of its upcoming SUV-inspired new C4, which is said to revive the hatchback segment.
The French firm recently released teaser images and details of the third-generation C4, which effectively replaces the C4 Cactus, but has now given more information, including performance figures for the all-new e-C4.
As well as confirming details of the new C4 and e-C4, never-before-seen images have also been released, which of course we wanted to share with you!
What we know for sure now:
The Outside
The all-new C4 will be sold with petrol, diesel and electric powertrains, making it the first family hatchback in Citroen's portfolio to offer a zero-emissions variant.
The front grille of the new C4 features a design recently seen on the updated C3.
The new C4 also showcases V-shaped 'signature' lights and chrome chevrons that stretch across the width of the vehicle.
The bonnet is more concave in shape than the last generation, reflecting the C5 Aircross SUV, whilst the front bumper is finished in a matte black effect. Citroen have revealed that this new bumper gives increased protection from small impacts, making it practical as well as aesthetically fitting.
The wheel arches feature a matching matte black finish to the front bumper, adding to the SUV styling of the new model.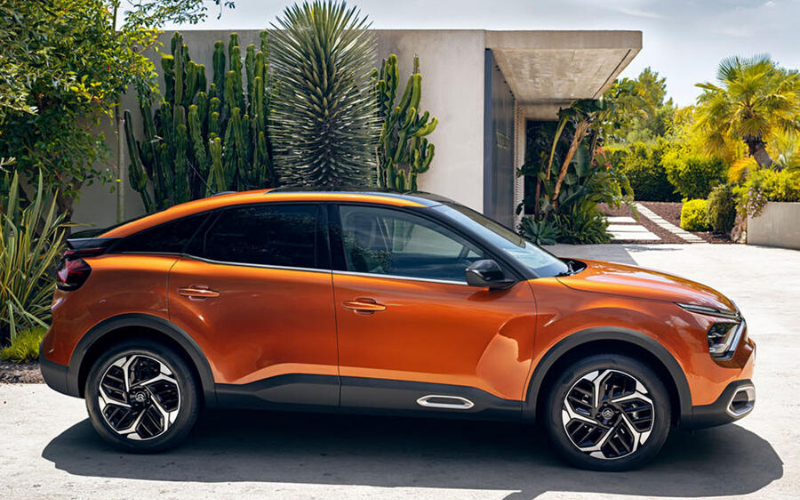 Citroen says the sloping roof is designed to emphasise the aerodynamics of the new C4, with the rear overhang design intended to reflect the Citroen GS.
Wheel sizes will range from 16 to 18 inches, with the new e-C4 featuring an exclusive 18-inch Crosslite Alloy Wheel design.
The Inside
The new e-C4 and certain C4 models will be offered with Advanced Comfort seats, featuring optional heating and massaging systems, so that every journey feels blissful.
New C4 buyers will have a choice of six interior colour schemes, all aimed at making the driver feel 'as if they were in their living room', styled the way they want it.
Promising great spaciousness, Citroen have also declared the new C4 to offer best-in-class rear knee room and a wide variety of storage compartments.
The upcoming C4 dashboard will include a newly designed 10-inch infotainment touchscreen with a large coloured head-up display, to complement the digital instrumentation. Different to recent models, Citroen have now separated the climate control stack from the touchscreen with physical controls.
The infotainment system is set to feature the latest version of Citroen's intuitive Sat Nav and will be compatible with Android Auto and Apple CarPlay. A full HD camera, which can take photos or video stored on a 16GB memory card, has additionally been built into the rear-view mirror.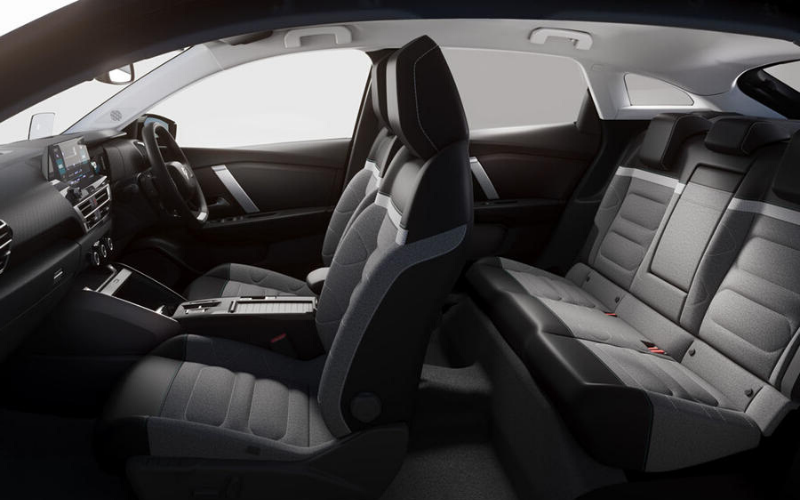 To keep its driver extra safe, the new C4 also offers 20 Driver Assistance features, including Highway Driving Assist and a level-two semi-autonomous system incorporating Adaptive Cruise Control and Lane Keeping.
In line with Citroen's focus on comfort, the C4 and e-C4 will be fitted as standard with the brand's Progressive Hydraulic Cushion suspension, which uses two hydraulic stops to reduce bouncing and smooth the ride.
The New E-C4
The e-C4 will house a 134bhp electric engine, which draws power from a 50kWh battery.
Citroen have declared its impressive range of 217 miles, which will be more than enough to reach its driver's daily commute and errands!
The all-new e-C4 will be nippy too, reaching 0-62mph in just 9.7 seconds and hitting a top speed of 93mph.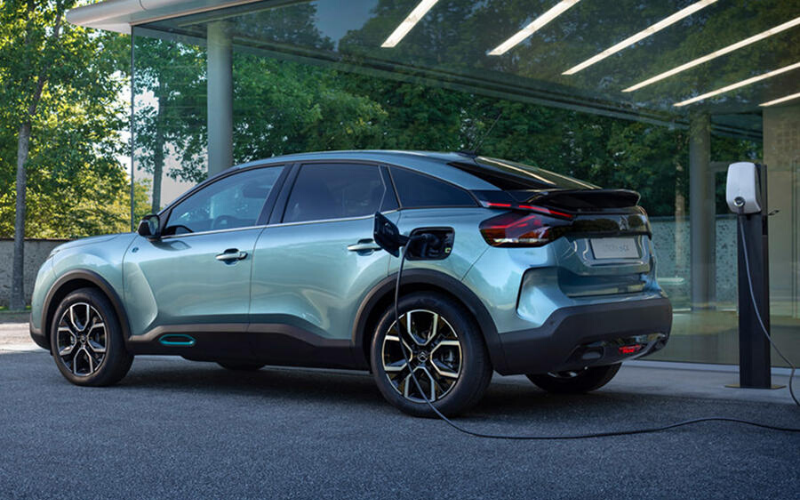 To make the new e-C4 extra efficient, Citroen have declared their new EV recovers energy when decelerating and braking, offering up three drive modes – Eco, Normal and Sport – that can alter the amount of engine power and the energy draw for the air conditioning to boost range.
The e-C4 is also fitted with an 11kW charger, which can complete a charge in around five hours on a 32-amp home wallbox. It also comes with a 100kW fast charger, which can achieve an 80% charge in just 30 minutes at a rapid public charge point.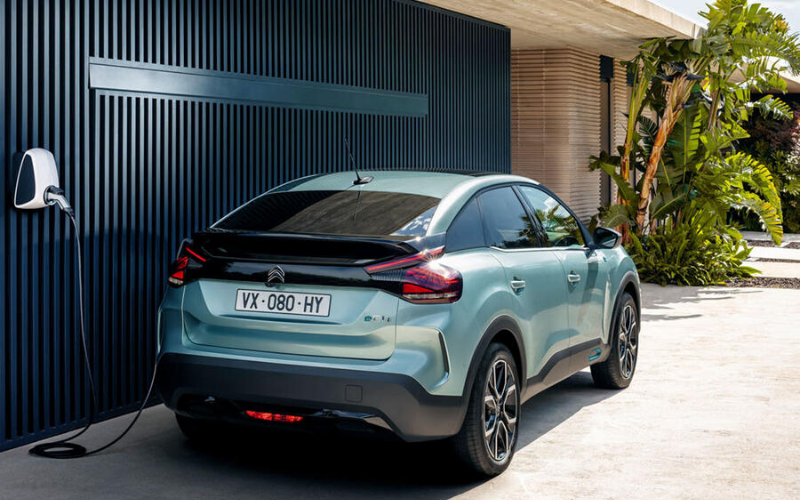 Charging can be controlled via a smartphone app, with e-C4 owners able to schedule it so they may take advantage of off-peak electricity charge times! Nifty, huh?
Here at Bristol Street Motors, we will always keep you in the loop. What we know so far is that the new C4 and e-C4 are set to go on sale in Autumn later this year.
We'll release more updates on the upcoming Citroen C4 and e-C4, such as pricing, as and when we can... so stay tuned!
In the meantime, if you'd like to learn more about hybrid and electric vehicles here at Bristol Street Motors, click the link below:
Learn More About Electric Vehicles
Alternatively, if you'd like to view our current deals on the new Citroen range, click the link below: