Citroen DS3 Racing goes Cabrio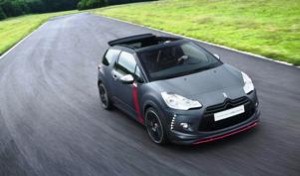 It's only a concept car at the moment, but there's nothing stopping Citroen turning this Racing variant of their recently launched DS3 Cabrio into a reality. There's already a road-going, limited edition, Racing model of the successful DS3 hatch, with a full 202bhp, so surely not much more to do to make the new Cabrio very racy indeed.

The DS3 Cabrio Racing will be on show at Goodwood this week ahead of its official unveiling at the Frankfurt Motor Show in September, and at both events Citroen will be gauging public interest. A limited launch would surely sell though.

Powered by a Citroen Racing-tuned 1.6-litre, 202bhp, turbocharged petrol engine, and featuring special running gear, bigger brakes and some lovely carbon fibre flourishes, the DS3 Cabrio Racing will be a quick car. Top speed would be in the region of 140mph, while 62mph should be dealt with in around 7 seconds or less.

Usefully, the Cabrio Racing is only 25kg extra in heft than the standard Racing, helped by a fabric roof that rolls back rather than fully retracting. This set up while still opening the occupants right up to the sky also needs much less mechanical metalwork that a fully folding convertible roof.

Extra styling touches for the fastest Cabrio includes a bespoke Moondark matt textured grey paintwork, gloss black 19-inch alloy wheels and black chrome inserts on the handles, boot trim and door mirrors.

Inside, it's a similar top of the line treat featuring sculpted bucket seats with a DS watchstrap design in three types of fabric – Napa full-grain leather, DS-embossed leather and Alcantara – and DS pearl top-stitching, showing the Carmin shade for the first time, on the seats, dashboard and gearshift.

Pricing is as yet unconfirmed, but, should it go on sale, it would demand a small premium over the non-Cabrio DS3 Racing model.