Citroen to unveil 'new era' in Geneva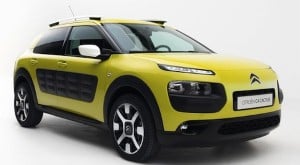 Citroen is using the 84th Geneva International Motor Show as a platform to reveal it 'new era' in motor design and delivery.

At the event, the new Citroen C4 Cactus, the C1, the C5 CrossTourer and the DS 5LS will all be present to herald the manufacturer's future potential.

It will also be displaying the latest C-line models, such as the C4 Picasso and the Grand C4 Picasso, while updates to the DS line will also be present.

The two models making their debut at the show are the C4 Cactus and the C1, with the pair making up part of Citroen's core line-up for the coming years.

According to Citroen, the former is a real alternative to the compact hatchback. The manufacturer is so confident of its success it is also preparing to launch the C4 Cactus Adventure concept car.

The Cactus is designed for a new world, with new ideas, and offers more design, greater comfort and more useful technology.

Airbump technology, an exclusive for Citroen, adds a graphic structure to the smooth body lines, providing an extra layer of protection as the air capsules absorb impacts.

The C1 is a reworking of the brand's flagship model. While little has been said about how the latest edition will differ from the previous version, all is set to be revealed once it is wheeled out in Geneva.

Citroen will also be showing off new engine technologies, in the form of the THP 130 PureTech engine, delivering 15 per cent more power and lower fuel consumption than previous generations.

Finally, the BlueHDI engines, Citroen's new generation of environmentally considerate and economical engines, will also be on display.