Favourite Electric Car Award Goes to the Mazda MX-30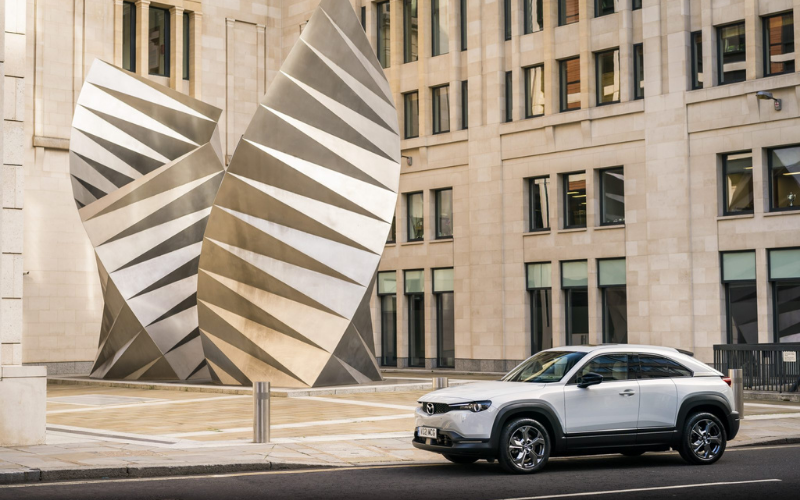 The Mazda MX-30 has been named Favourite Electric Car at the 2021 DrivingElectric Awards.
The winners of the DrivingElectric Awards are voted by the readers of the site, and the Mazda MX-30 was praised for its sustainable design and affordable starting price.
Commenting on the MX-30's award, DrivingElectric.com Editor, Richard Ingram, said: "Mazda's compact SUV was the clear winner in our poll to find the readers' favourite among the new electric cars revealed this year. The Japanese brand has taken a slightly different direction to rivals, focusing on stylish design, an engaging driving experience and sustainable interior materials rather than the biggest battery for the longest range possible. This approach clearly resonates with all those who voted for the MX-30, as does its relatively affordable starting price of just over £25,000".
Set to arrive in the UK in March 2021, the new Mazda MX-30 is available to order now. It delivers an all-electric range of 124 miles and features the latest technology to make every day driving easier. The interior is also kitted out with sustainable materials, making this electric vehicle even more environmentally friendly.
Commenting on the Mazda MX-30's recognition by DrivingElectric.com, Managing Director, Mazda Motors UK, Jeremy Thomson, said: "our first all-electric Mazda heralds an exciting start to Mazda's second century in business. And to win an award like this before the first customers in the UK have even taking delivery of an MX-30 is fantastic and shows that EV buyers share our passion for the MX-30's style, design and quality. It's very encouraging that the MX-30 is resonating with potential UK buyers who voted for it against a talented field of rival EVs".
Spacious, sustainable and stylish, the new Mazda MX-30 is designed for everyday living and will make the perfect EV for families and businesses alike.