Fiat 500 TwinAir is 'comfortable and stylish', says actor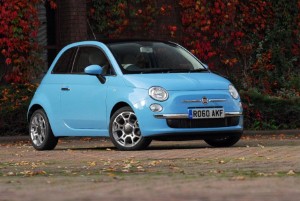 Actor Tom Chambers has taken delivery of a new Fiat 500 TwinAir.

The Strictly Come Dancing winner received the new model yesterday (November 16th) before travelling to Sunderland for the opening of White Christmas The Musical.

Known for his love of the car manufacturer, the performer has been driving Fiat 500s for almost two years and owns an original 1965 model.

The new Fiat 500 boasts an 85bhp TwinAir engine which, as well as being economical, is exempt from road tax and the London congestion charge thanks to its 95 g/km CO2 emissions.

"My job as an actor takes me all over the country, so it's important I have a car that can get me where I need to be safely, reliably and economically," the actor commented.

He went on to praise the Fiat 500 TwinAir for its "comfort and style".

In other news, Fiat is currently hosting a competition that encourages motorists to drive economically.

Using the company's eco:Drive information system, entrants will compete to achieve the most economical rating for a chance to win a Fiat 500 TwinAir.