Ford boasts three awards winners in Sunday Times Top 100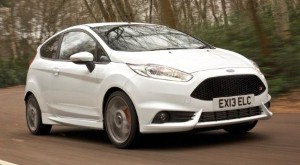 Not one, not two, but three Ford models managed to claim top prizes among the Sunday Times Top 100 list.

In the Best Supermini category, the Ford Fiesta walked away with the award, while the ST version of the car picked up the number one hot hatch accolade.

Elsewhere, the Ford S-MAX grabbed the top-spot in the Multi-Purpose Vehicle section, rounding off the hat-trick of awards for the popular brand.

The Fiesta is already the top-selling car in the UK and now comes with titanium trim and a sensible 1.0-litre EcoBoost engine.

Judges in the Sunday Times awards said the car appeals for both its looks and performance and remarked that it is no surprise the vehicle is so successful in the UK.

"For people who live in the real world, where budgets are micro-managed and journeys are often long and boring, it's possible this Ford could be the most significant hatchback of recent years," the judges added.

"Fast, comfortable and frugal, it is the best of all worlds wrapped up in a car that costs less than any number of rivals."

The unique S-MAX was also praised for being a "genuinely rewarding car to drive", with the panel saying that no other MPV has yet reached these levels.