Ford brings the classic Cortina into the 21st century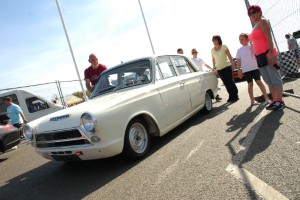 Ford has celebrated the 50th year since the iconic 1960s Cortina first rolled off the production line, by redesigning the car for the 21st century.

In a fitting tribute to the classic car, Ford Europe's chief designer Paul Wraith penned the design of how the Dagenham-built MKI Cortina could look and work in the modern-day car industry.

Motoring magazine Auto Express tasked the American car giant with the task, after being intrigued about how a next-generation model of the well-loved family saloon car would be approached.

Steve Fowler, editor of the publication, commented: "Ford is celebrating 50 years of the Cortina and we've got them to design a Cortina for 2012 – meeting all today's regulations, but with the size and style of the original."

One of the main challenges which Mr Wraith found was that many parts of the original Cortina's design would need to be altered in order to meet today's legal requirements.

As such, the jutting front bumper and sharp edges of the 1960s vehicle would fail if put through Europe's stringent crash tests.

To get around this, Ford Europe's chief designer framed crumple zones onto a sketch of the 21st century Cortina, while supporting pillars on the windscreen were thickened and windows made shallower in depth.

Some of the iconic features of the iconic Cortina did remain, however. For example, the distinctive rear tail-lights can still be seen on the 2012 model – albeit with a sharper look – and the two sharp ridges on the car's boot are present once more.

Commenting on the overall design of the fictional next-generation Cortina, Mr Fowler noted: "It all seems a world away from the simple, original car that made such a splash in the Sixties.

"But these days buyers are more demanding. We want our cars to be practical, efficient and hi-tech – all for a great price."