Ford completes production of two millionth EcoBoost engine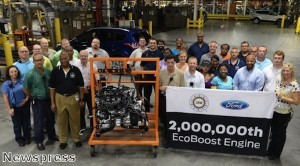 The demand for the innovative Ford EcoBoost engine has now hit a significant milestone, with the manufacturer producing its two millionth model.

EcoBoost technology was launched in 2009, and now Ford claims to deliver 100,000 engines every single month. A new annual target of 1.2 million has been set for 2013, which marks a 60 per cent increase on what was delivered in 2012.

The manufacturer has also suggested that demand for the engine has exceeded what was initially predicted, with 43 per cent of B-Max customers in Europe opting for the EcoBoost technology.

Joe Bakaj, vice president of powertrain engineering at Ford, said: "Ford EcoBoost delivers great performance with lower fuel bills, a recipe which is proving incredibly popular with consumers around the world.

"EcoBoost engines are attracting new customers to the Ford brand every day, and our plants are working hard to keep up with demand."

The engines are available in 1.0-litre three-cylinder, 1.5-litre, 1.6-litre and 2.0-litre four-cylinder options, as well as the powerful 3.5-litre V6.