Ford Fiesta voted Women's World Car of the Year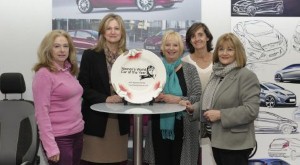 In the latest accolade for the popular Ford model, the Fiesta 1.0-litre EcoBoost has picked up the title of the 2013 Women's World Car of the Year.

Ford's latest incarnation of the Fiesta has impressed the panel because of its value-for-money, appearance, storage, and child-friendliness, among other values.

Comprising 18 female motoring writers, the judging group also praised the car's ease-of-driving, colour, sex appeal and the limited environmental footprint caused by the car's emissions.

To claim the coveted award, the Fiesta had to fend off competition from other notable top-of-the-range models, including the Audi Allroad, Range Rover and Porsche Boxster S. The car was also fortunate enough to claim an award in the Economy Car section.

Chief operating officer at Ford of Europe Barb Samardzich was on-hand at the ceremony in Cologne, Germany, to accept the award.

"The success of the new Fiesta, both in terms of this award and impressive sales, has been achieved with a car which is sharp looking, better connected and even more fuel efficient and fun-to-drive," she said.

Sandy Myhre, chief executive officer for the awards, said it was "clear from the outset" that the Fiesta had captivated the attentions of the group.

"Women play a significant but often overlooked role in buying a car and the new Fiesta's high-end look and feel, remarkable fuel economy and surprising performance are just some of the features which clearly chime with the needs of many female drivers," she added.