Ford Focus Electric set for UK market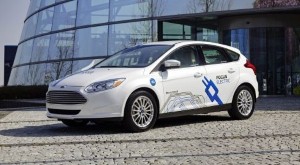 After European production has started successfully, the new Ford Focus Electric is set to make its UK entrance.

The car is to be eligible for the £5,000 UK Government Plug-in Car Grant, which should help to entice motorists looking for low-cost, low-emissions travel through built-up urban areas.

In order to gauge consumer demand, Ford will introduce a limited number of the vehicles to the market and will later respond to demand when required to.

The new Focus Electric will add to Ford's existing range of electric vehicles, which include the Focus ECOnetic, seven Fiesta powertrains and the Focus 1.0-litre EcoBoost. The latter saw the engine named as International Engine of the Year in 2012 and 2013, aided by direct fuel injection, turbocharging and variable valve timing to keep fuel consumption low without sacrificing power.

Barb Samardzich, vice president of Product Development at Ford of Europe, said: "Ford is leveraging our global experience and expertise to roll-out a range of electrified vehicles that offers a wide and compelling power of choice.

"European customers care deeply about the environment and are increasingly seeing electrified vehicles as a way of balancing those concerns with a commitment to car ownership."

A study conducted by Ford revealed that 72 per cent of people believe electrified vehicles are better for the environment, while just over half (52 per cent) admitted life would be impossible without a car.