Ford Focus ST named Europe's best-selling hot hatch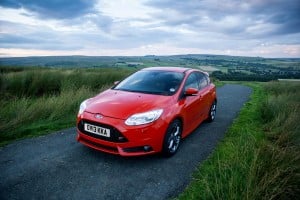 In the last three months of 2012, the Ford Focus ST has been deemed as the top-selling hot hatchback across Europe.

This achievement is according to figures obtained by automotive data intelligence provider Polk, which found that 44 per cent of all sales in this segment for this period of time across the continent were for the Ford Focus ST.

All told, 1,984 Focus ST models were sold around Europe, with the vehicle the best-selling hot hatch in the UK, Denmark, Norway, Finland, Hungary, Switzerland, Sweden and the Netherlands.

When regarding the hot hatchback segment as a whole in Europe for the last quarter of 2012, Ford's sporty-looking car was well ahead in the sales from the Volkswagen Golf GTI, which made up 33 per cent of the market, and the Renault Megane Sport - this vehicle held a 12 per cent share of the segment.

Looking at the remarkable achievement, Roelant de Waard, the vice president of marketing, sales and service at Ford of Europe, commented: "The unrivalled balance of performance and usability has been recognised by some fantastic reviews for the Focus ST.

"You really have to drive it yourself to experience the responsiveness of the engine and the fantastic chassis. I am one of a fast-growing group of excited ST drivers."

There are plenty of reasons to see why the Ford Focus ST is so popular, with the hot hatch's exterior catching the eye with its oversized front grille, state-of-the-art side skirts and sporty-themed central dual exhaust.

The treats just keep on coming when stepping inside this vehicle, with motorists able to drive in total comfort when relaxing into Recaro sports seats, while red trimmed dials and a leather-trimmed steering wheel only add to the interior's character.

Such features have already helped the Focus ST to be named as Auto Express' Best Hot Hatch and Top Gear magazine's Hot Hatch of the Year, on top of its phenomenal European sales figure.