Ford prepares Focus line-up for Paris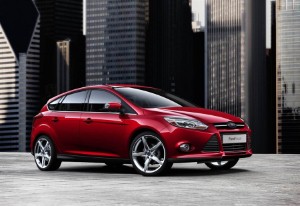 The complete line-up of the next-generation Ford Focus is set to go on display for the first time at the Paris Motor Show.

The motoring event, which begins on October 2nd, is set to feature all three versions of the new Ford Focus.

Ford has confirmed that no other versions of the car - such as a three-door model - are set to be added to the line-up.

"The three-model Focus range provides the ideal blend of sporty, dynamic looks and every-day practicality," said Derrick Kuzack, vice-president of product development at Ford.

He added that the new Focus "truly represents the best" of Ford. The new car is set to be delivered in 120 markets worldwide with 80 per cent parts commonality.

The C-platform used for the car is also set to be the base for up to ten other models around the world.

This year's Paris Motor Show will run until October 17th at the Paris Expo - Porte de Versailles.