Ford sees success in rear view camera technology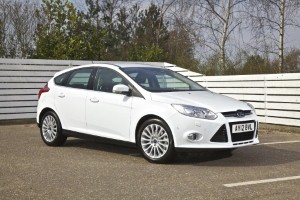 Ford's has announced that its rear view camera technology is now its fastest-growing driver assistance feature.

The nifty piece of kit makes parking and reversing manoeuvres a good deal easier and increasingly those who choose to invest in Ford vehicles are opting to have it fitted.

It was the fastest growing feature within cars during 2012 with Ford customers in Europe buying 55,000 cars equipped with the technology, of which more than 11,000 were sold in the UK.

Its very good news for Ford, with these figures marking a 45 per cent increase on the 38,000 sold in 2011 in Europe.

The technology shows obstructions such as animals and children, on a small screen in the instrument cluster or in the rear view mirror, depending on the choice of the customer.

It has enjoyed immense success ever since it debuted on the Ford Kuga in 2008 and is now available in the company's Mondeo, Galaxy and S-MAX cars, as well as Focus, Grand C-MAX, C-MAX, Fiesta and B-MAX models too.

"Our driver assistance technologies really do make a difference in day-to-day driving," said Ford's chief engineer Christof Kellerwessel.

"We're committed to democratising these features and making motoring less stressful for ever increasing numbers of customers."

The rear view camera technology isn't the only piece of kit that has been selling well either, the company has confirmed.

More than 100,000 vehicles have been sold in Europe equipped with Active Park Assist, which allows drivers to easily parallel park at the touch of a button, without ever touching the steering wheel.

Mr Kellerwessel added: "Parking is the latest example of a tough, stressful task rendered simple by technology.

"Before GPS, you had to read a map or ask directions. Technology that was once unaffordable or far-fetched can now improve the lives of many."

Furthermore, Ford's Adjustable Speed Limiter technology was fitted in 270,000 vehicles, making it the company's "must-have" piece of kit.