Ford to release special edition Transit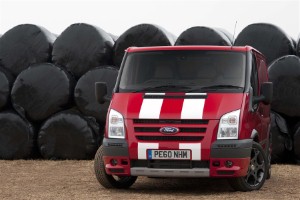 Ford will commemorate the 45th year of the UK's best-selling van with the release of a special edition model.

Initially released in 2006, the Ford Transit SportVan was available in performance blue, sea grey, panther black, frozen white and ink blue with racing stripes.

Now the company plans to re-release the model in Colorado red with white stripes in a limited edition of 100 to celebrate the popularity of the Ford Transit range.

Based on the Transit 260, the new front wheel drive van features a 140PS 2.2-litre TDCi diesel engine and a six-speed transmission.

It will become the first medium van to include a DAB radio as standard when it hits showrooms at the end of the month, priced at £22,630.

Ford marketing director Mark Simpson said: "We know that 'white van man' is image-conscious, both personally and for his business. The SportVan is a real head-turner as well as a reliable workhorse and that's why they sell out so fast."

Other features include twin exhausts, 18-inch graphite colour alloy wheels, low-profile tyres, ABS, ESP and airbags.

Ford recorded a clear market lead in the year to September as sales were boosted by the registration plate change, the manufacturer reported last week.