Hyundai auctioning World Cup i20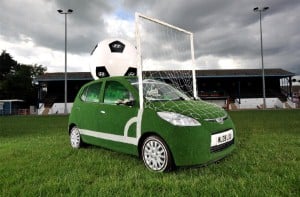 Hyundai is auctioning off a special edition World Cup-themed model in aid of a motor industry charity.

The Hyundai i20 was designed by artist Andy Saunders and built to celebrate the sporting event this year.

Themed around football, the new car features an exterior that resembles a grassy pitch, a giant football attached to its rear and goal posts on its A-pillars.

Before its transformation by the designer, the car was also used by Jeremy Clarkson for the filming of his Duel DVD.

Hyundai states: "Prospective buyers are any sports-related business which needs an effective way of advertising or a really committed football fan! All the money raised will be handed to BEN, the automotive industry charity, as a donation."

Bidding for the unique Hyundai i20 begins at £1,995, but the company hopes to raise twice as much as this by the time the lot closes on August 10th.

A review by Jonathon Crouch in the Belfast Telegraph recently labelled the model "economical, roomy, well-equipped, tightly built and covered by an excellent warranty".