Hyundai wins police vehicle tender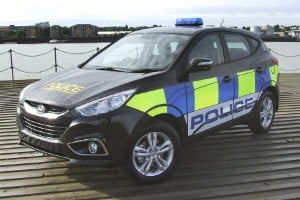 Hyundai has been named a 'preferred supplier' of vehicles to police forces across the UK.

After a two-year tender process, the National Association of Police Fleet Managers has permitted all forces to purchase Hyundai vehicles after assessing their purchase, maintenance and running costs, as well as performance and build quality.

The manufacturer notes that the deal could mean it provides a large amount of the 9,800 vehicles purchased by UK forces each year.

It predicts the most popular models will be the i20, i30, ix35, Santa Fe and iLoad van.

Hyundai UK managing director Tony Whitehorn said: "The quality, reliability, resale value and performance of Hyundai vehicles has shone through and they've been given the green light to carry a blue light."

Mr Whitehorn added that a guarantee of quality is particularly important in this case, since the cars are being purchased with taxpayers' money.

In other news, the Hyundai ix20 is poised to appear for the first time at the Paris Motor Show on September 30th.