Hyundai debuts new Veloster coupe in US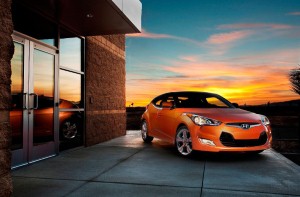 Hyundai has showcased a new coupe model for the first time.

The Hyundai Veloster made its world debut at the 2011 North American International Auto Show on Monday (January 10th) and takes inspiration from a concept car displayed at the 2007 Seoul Motor Show.

Boasting a unique three-door design, the car includes a rear door on the passenger side for easy access.

Customers will be able to opt for the company's new six-speed double clutch transmission, as well as a 1.6-litre four-cylinder petrol engine.

Allan Rushforth, senior vice-president and chief operating officer of Hyundai Motor Europe, said: "The Veloster embodies the evolution of the Hyundai brand in Europe. It's our latest model to offer great looks in a thoughtfully-conceived package, and still has the well-established Hyundai characteristics of quality, safety and efficiency."

Mr Rushforth added that the model is expected to go on sale in Europe later this year, after debuting in Geneva in March.

In other news, Hyundai is offering zero VAT deals on selected i10, i20 and i30 Comfort models until the end of March.