Hyundai hits five million European units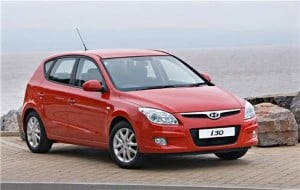 Hyundai has confirmed that it has sold five million vehicles in Europe since its first car was imported in 1977.

The milestone vehicle was a Hyundai i30, which was launched in 2007 and has since sold over 320,000 units across the continent.

According to the manufacturer, the i30 was its first vehicle designed specifically for the European market and also the first to carry the 'i' prefix.

The release of the i30, along with the i10 and i20, contributed to the firm increasing its market share in Europe to a record 2.6 per cent last year.

Allan Rushforth, senior vice-president of Hyundai Motor Europe, said: "This is just the beginning for the brand. We are planning for further sales growth during 2011, to take us to a 3 per cent market share in Europe."

Mr Rushforth added that the company will continue to strive to improve the quality and desirability of its range.

In related news, Honest John recently named the Hyundai i10 as the 'most genuinely economical petrol-engined car', thanks to its emissions of just 99g/km.