Hyundai Kona Electric Sets Range Record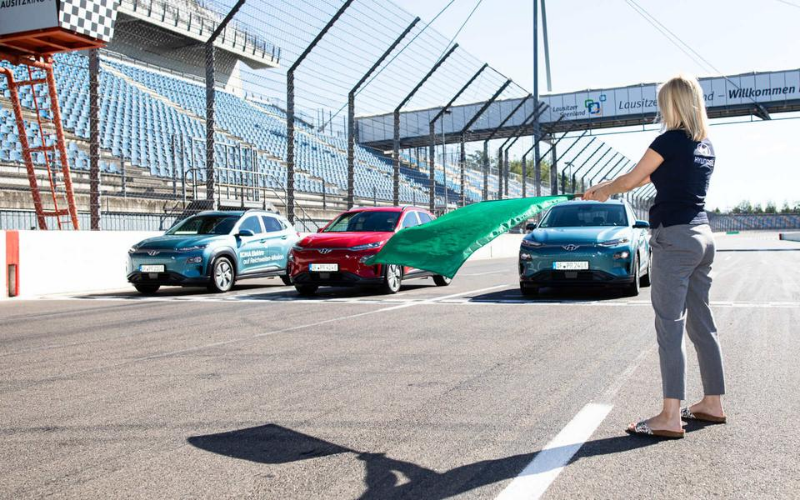 The Hyundai Kona has set a range record of 1,026 kilometres, which is approximately 637 miles.
Hyundai put three of its subcompact SUVs to the test on Lausitzring race track, and a new record was set for the company's electric vehicles.
The test, which is also known as 'hypermiling, saw three Kona Electric vehicles drive on a single full charge to see if they could go further than 1,000 kilometres. The vehicles succeeded and only stopped without power after exactly 1,018.7, 1,024.1 and 1,026.0 kilometres.
Jurgen Keller, Managing Director of Hyundai Motor Deutschland GmbH, explained: "With this test, the Kona Electric demonstrated its potential as an efficient and environmentally-friendly lifestyle SUV. This proves its suitability for everyday use and shows that, when it comes to our electric vehicles, range anxiety should be a thing of the past."
The average speed the Konas were driven at were between 29 and 31 km/h, and the entertainment systems were switched off, as well as the air conditioning, to help preserve the battery's life. Although the average speed may sound slow, Hyundai wanted the test to reflect inner-city driving conditions.
The test was carried out over three days, and on the third day, signs began to show that the EVs were running out of power. Once the battery had lost charge, it carried on for a few more hundred metres, until it finally stopped, with the electric parking brake automatically activating for safety reasons.
In the test, the charge level indicator of the Hyundai Kona Electric proved to be extremely reliable and counted down percentages according to driving style, keeping drivers in the know at all times.
Commenting on the result, Michael Cole, President and CEO of Hyundai Motor Europe, said: "I offer my congratulations to all who took part in this range mission, which has proven that our Kona Electric is affordable, immediately available and highly efficient. This lifestyle-oriented car combines the attractive design of a compact SUV with the advantages of an environmentally-friendly electric vehicle. That means every Kona Electric customer will purchase a vehicle with a range of sophisticated technology that remains suitable for everyday use."
For more information about electric and hybrid vehicles, visit our EV hub page, where you will find everything you need to know about making the switch, along with all the latest models available on the market today.