Hyundai unveils i40 details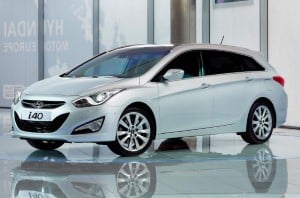 Hyundai has release comprehensive pricing and specification details for its all-new i40 Tourer range.

The medium family estate car offers emissions of just 113g/km, as well as a class-leading fuel economy of up to 65.7mpg.

Set to go on sale in September, the model falls into the 12E insurance group, the lowest rating in its class.

Tony Whitehorn, managing director of Hyundai Motor UK, said motorists and company fleet managers could be enticed by the i40 due to its "exceptionally low CO2 emissions" and spacious interior.

"The i40 is a sign of how far Hyundai has come in recent years, and truly embodies where the brand is going. We believe that it offers a unique, value for money customer proposition," Mr Whitehorn added.

Hyundai has confirmed that the car will be available in three trim levels - active, style and premium - while it will include 16-inch alloy wheels and Bluetooth connectivity as standard.

The manufacturer recently reached five million units sold in Europe since its first exports to the continent in 1977.