Hyundai unveils new Santa Fe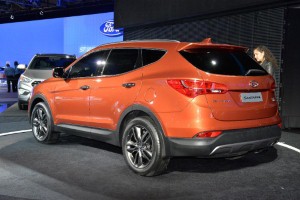 The all new Hyundai Santa Fe was unveiled to motoring enthusiasts at the 2102 New York International Auto Show in the Jacob Javits Convention Centre earlier this week.

This is the third generation of the popular model and the South Korean manufacturer believes the car will be a hit with owners of the older versions as well as with a new army of fans.

Unveiling the new generation crossover SUV in the Big Apple, the carmaker boasted of the new design, improved practicality and better fuel economy that drivers will notice when getting behind the wheel of the new Santa Fe.

According to Hyundai, the improved style, comfort and quality will set the new Santa Fe apart from its rivals in this increasingly-competitive sector.

Allan Rushforth, senior vice-president and chief operating officer of Hyundai Motor Europe, said that while the present Santa Fe has proved a strong seller, the new model is set to boost the brand further still.

"The original Santa Fe has maintained strong sales year-on-year across Europe, thanks to its combination of quality, practicality and value. Now, New Generation Santa Fe retains the earlier model's key strengths - practicality, roominess and dependability - while also offering consumers much more," he explained.

Mr Rushforth also said that with fresh exterior styling, a more-efficient engine, greater comfort and improved quality, the new Santa Fe is a "truly attractive proposition that will build on the successes of the previous model by broadening its emotional appeal".

According to the latest figures, the Santa Fe has achieved worldwide sales of almost 2.56 million units with more than 350,000 of those being European customers.

The Santa Fe was first launched in the year 2000 but its new look brings it right up to date and it looks set to prove a hit with drivers across the Continent and commence battle with its SUV crossover rivals.