Mazda launches new model for spring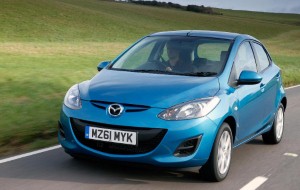 Mazda has announced the launch of a new special edition of one of its popular models in order to mark the start of spring 2012.

Motorists planning to get behind the wheel of the new Mazda2 could now be tempted to consider the new Venture edition of the car, which boasts a range of high-tech equipment.

Available from £12,995 on the road, the new version come complete with TomTom satellite navigation, integrated Bluetooth and climate control air condition as standards.

To make the model even more desirable, the Japanese carmaker has confirmed that just 1,500 examples will be put in to circulation.

Mazda has also revealed that the latest update of the best-selling UK model will be available at a low rate of 5.9 per cent APR in a special deal that lasts until July 31st this year.

The manufacturer explained that the new Mazda2 Venture Edition is based on the five-door hatchback Tamura model, which offers drivers both advanced technology and a "premium cabin ambience".

Peter Allibon, sales director at Mazda UK, said: "The availability of the new Mazda2 Venture Edition, with its unique combination of advanced technology, sports styling, a premium interior and great added value, will attract new consumers to our brand.

"In its latest form, Mazda2 combines superior ride comfort, superb handling and quality with the stylish, spirited and fun-to-drive attributes for which Mazda is renowned. No surprise that it is the best-selling model in our range."

The key features that set the new model apart from other versions are 16-inch gunmetal alloy wheels, a sports styling kit, front fog lamps, privacy glass and a rear bumper sports trim.

A 5.8-inch touchscreen and electric rear windows add a touch of luxury to the car, which is already a hit with drivers up and down the country.