Mazda MX-5 RF is Named Most Fun Car to Drive at 2020 AutoTrader New Car Awards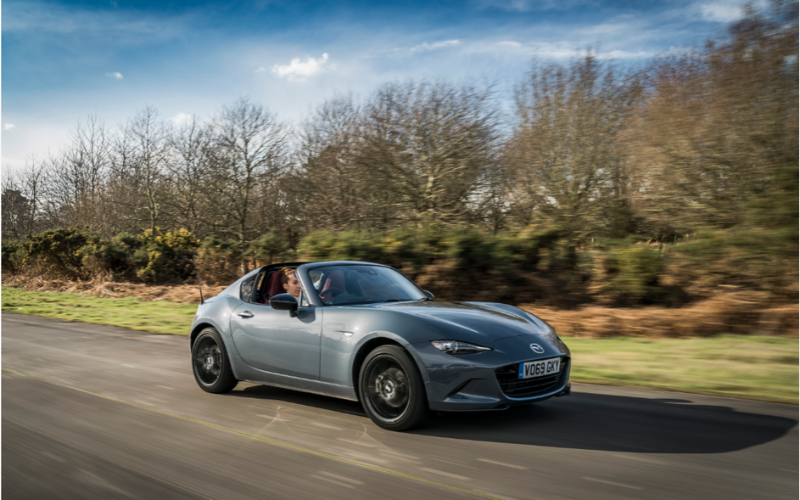 The Mazda MX-5 RF has been crowned the 'Most Fun Car to Drive' at the 2020 AutoTrader New Car Awards.
Winners of the AutoTrader Awards are decided by British drivers and more than 181,000 car owners voted for the Mazda MX-5 RF, driving it straight to first place within the category.
Erin Baker, Auto Trader Editorial Director, said: "Mazda's MX-5 RF once again proves its sports credentials, this category is about putting smiles on faces and the RF does that in spades while proving that you don't need to spend a lot of money for a whole lot of fun".
Designed to handle like a roadster, this Mazda model features exceptional handling and is super lightweight to make cornering a breeze. The sleek silhouette makes for an athletic yet stylish appearance and will have you driving every road like a pro.
Of course, the MX-5 RF is a convertible, which is one of the main reasons why this car is so fun to drive. There's nothing that compares to the exhilarating experience of driving with the top down, and in the Mazda MX-5 RF, you can let the wind really rush through your hair as you cruise along.
With 5 trim levels to choose from in the MX-5 range (GT Sport Tech, R-Sport, SE-L, Sport and Sport Tech) you can tailor your convertible to your needs. Each model is installed with Skyactiv Technology, delivering a stronger, safer and more fuel-efficient drive, without compromising on performance.
Commenting on the success of the Mazda MX-5 RF's, Mazda UK Managing Director, Jeremy Thomson, said: "When it comes to driver engagement, the current generation MX-5 has already established itself as a benchmark sports car, and with the 2020 Mazda MX-5 we continue to offer one of the most exciting and satisfying to drive cars money can buy and it's fantastic that this has been acknowledged by the readers of Auto Trader."
Jeremey also added: "Our engineers have created a sports car that incorporates our ground-breaking Skyactiv technology, modern safety and superb efficiency with the driver-focused enjoyment for which the MX-5 is loved. The MX-5 is Mazda's brand icon and it embodies all that is great about our products. It's fun to drive character has strengthened the bond between Mazda and its customers for 30 years and the 2020 model continues this unswerving dedication to delivering an affordable, engaging, world-class sports car."
This year marks Mazda's 100th birthday and what better way to celebrate than with the achievement of the MX-5 RF. Exhilarating to drive, the Mazda MX-5 opens up new roads for you to experience. From its captivating design to its exceptional performance, it's no surprise it has been named the most fun car to drive at the 2020 AutoTrader New Car Awards.