Mazda MX-5 Superlight concept car to showcase at Motorexpo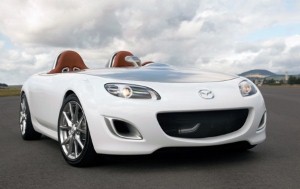 Posted by Craig Salter

Motorists may be looking forward to this year's Motorexpo, which brings together the latest models from top manufactures in the motoring world.

Scheduled to take place between June 7th and 13th, the event is free to attend and will be held at London's Canary Wharf.

Among the top attractions on the day will be the latest Mazda MX-5 Superlight, which is currently in its concept stage. As well as the MX-5, Mazda will be displaying its sporty 2010 range, including the Mazda 6 and award-winning Mazda 5.

Various other vehicle marques will also display their wares at the show, which looks set to attract more visitors than ever before.

Commenting on the event, Graeme Carver, Motorexpo chief executive officer, said: "The Canary Wharf London Motorexpo is a unique and free opportunity for everyone to see the latest vehicles that many of the world's leading motor manufacturers have to offer."

Earlier this year, Mr Carver commented that the show has stood the acid test posed by the recession as a result of its modern and unique format.