Mazda to showcase BT-50 in Australia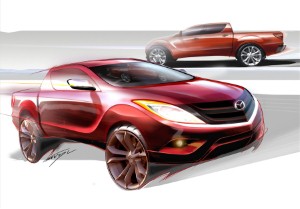 Mazda is poised to unveil a new pickup truck model next month.

The all-new Mazda BT-50 compact pickup will feature at the 2010 Australian International Motor Show on October 15th at a press conference and throughout the show.

Developed to address the needs of motorists living active lifestyles, the model is aimed at families, leisure drivers and working professionals.

Its modern styling challenges the typical appearance of a pickup truck, with an athletic design and compact build, the company notes.

Mazda states: "The styling of the all-new Mazda BT-50 increases anticipation of the driving pleasure to come and represents a new direction in the compact pickup market."

The model will be made available worldwide.

Meanwhile, the company will also unveil new Sky Concept powertrain technology at the industry event.

In other news, the end of August saw the Mazda6 reach a cumulative global production volume of two million after eight and a half years of sales.