Mazda3 to receive improvements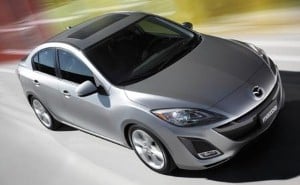 Mazda is set to improve one of its most popular lower medium sector models.

The Mazda3 will receive power, emissions and fuel economy improvements in the New Year when the manufacturer makes it available with a Euro 5-compliant engine.

Boasting a fuel economy of up to 64.2 mpg and 117g/km emissions, the six-speed 1.6 diesel engine offers a 12 per cent torque improvement and could boost sales of the Mazda3 range.

It is exempt from road tax for the first year, while it only costs £30 per year thereafter.

The model is designed with safety and comfort in mind and is also available with six other powertrains, including a high-performance 2.3-litre 260ps turbocharged engine in the Mazda3 MPS.

Mark Cameron, sales director at Mazda UK, said the new vehicle, due for release in January 2011, could prove even more popular than its predecessor.

"With improvements introduced on the Euro 5-compliant version, the 1.6 diesel engine offers excellent value for money and, importantly, something different to the mainstream offerings in the small family car market," Mr Cameron stated.

He added that the new Mazda3 could interest private buyers and company car drivers alike.

The company also offers a sportier version of the model in the form of the Mazda3 Takuya.