Military enlists Ford Rangers for service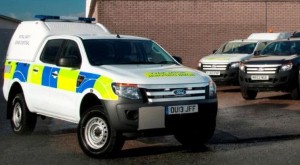 The Ministry of Defence (MoD) has hand-picked the Ford Ranger to use in the Army, Navy, Air Force and Ministry for a range of necessary tasks, including carrying personnel, MoD civilians and various equipment.

It has recently received the International Pick-Up Award for 2013 and now over 104 of the four-wheel-drive equipped off-road vehicles will help the MoD in the coming years.

The models will be delivered in differing cab body styles to suit a number of military needs, including Double, Super and Regular. Each are the most spacious in their class. The Forces will also pick between two powerful, yet economical, engines.

MoD programme manager Steve O'Leary said the cars are "vital administrative vehicles", with some used for service security patrols and others converted to make them suitable for mountain rescue operations.

"The Ranger was selected as it is more than able to fulfil the required role in terms of off-road mobility and payload, and also for the value for money it offers," he added.