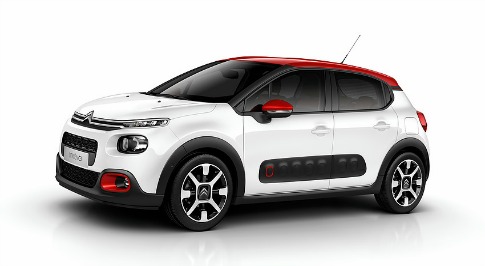 New images of Citroen's upcoming C3 have been leaked, and reveal that the car shares its sporty design with Citroen's C4 Cactus crossover.
A French motoring website has hosted the images this week, ahead of its official Paris reveal. The design has been strongly influenced by the C4 Cactus, with similarities in features such as narrow LED headlights, plastic body cladding, and Citroen's own 'AirBump' protective strip.
Elsewhere, the C3 features a roof and wing mirrors in contrasting colour with the car's body. This could indicate that the C3 will allow room for personalisation. The car's engine options will include the latest versions of (Citroen's parent company) PSA's 1.0 and 1.2 litre three cylinder petrol motors, with the 1.2 option likely to be offered in varying tunings. The most efficient engine option for the C3 will be PSA's BlueHDi 1.6 diesel, which will purportedly have CO2 emissions of less than 90g/km.
The C3 is one of at least 12 new models in the works under PSA, and seven of these are expected to be hitting showrooms in 2018. The C3 will be revealed in its entirety in Paris next week.