New Ford Fiesta offers new 'big car' features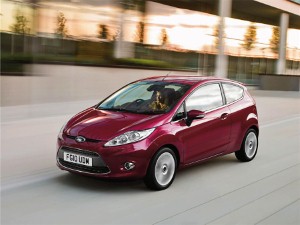 Britain's best-selling car now boasts new features.

The popular Ford Fiesta has been expanded to include more 'big car' features, a fact that could make it even more desirable to motorists in the market for a new or used vehicle.

A reversing camera has been added to the UK 2010 Ford Fiesta and is available on all models from Edge to Titanium at £475.

The optional feature also comes with automatic headlamps, automatic windscreen wipers and rear parking sensors.

Meanwhile, the top-of-the-range Titanium model offers a Sony radio with CD player, Bluetooth and USB connectivity, as well as cruise control and automatic headlights as standard.

Mark Simpson, marketing director at Ford of Britain, said: "We know that while customers may choose a smaller car than before, perhaps for economy reasons, they still want the technology and comfort features to make their Fiesta a premium choice."

Some 87,000 motorists have bought a new Ford Fiesta so far this year.

In other news, this month will see the release of the Colorado Red Ford Transit SportVan, available in a limited edition of 100 to celebrate the 45th birthday of the model.