Ford to debut new Transit Connect Electric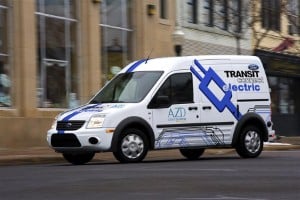 Ford is set to debut an electric version of one of its most popular models next week.

According to the company, its Transit Connect Electric model will take part in the RAC Future Car Challenge on November 6th, which is only open to hybrid and low-emissions vehicles.

The van will cover the 60-mile route from Brighton to London and will also be joined by the ECOnetic version of the Ford Fiesta Van and Ford Focus, both of which have emissions of less than 100g/km.

Set to be released in Europe next year, the Transit Connect Electric is a zero-emission, pure electric van with a battery pack capacity of 28kWh, a range of 80 miles and a top speed of 75mph.

Its batteries can be fully charged via a standard 230V household power supply in less than ten hours.

Graham Hoare, executive powertrain director at Ford of Europe, said: "The RAC Future Car Challenge is a great opportunity to showcase our latest production-ready electric powertrains and internal combustion engine technology."

Mr Hoare added that the company is aiming to provide its customers with models that offer "affordable environmental technologies".

Earlier this month (October 14th), the manufacturer unveiled the all-new Ford Ranger at the Australian International Motor Show in Sydney.