Ford models to be exempt from congestion charge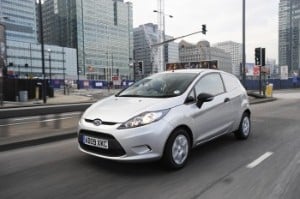 Motorists who own low-carbon commercial Ford vehicles could be exempt from the London congestion charge from next year.

Beginning on January 4th 2011, the Greener Vehicle 100 per cent discount will mean cars that emit less than 100g/km of carbon and meet the Euro 5 safety standard for air quality will not be charged for travelling across central London.

The news could interest owners of the ECOnetic versions of the Ford Fiesta and Ford Fiesta Van, both of which have emissions of just 98g/km.

Ford sales director Jon Wellsman said he is "delighted" the models will be included in the exemption scheme.

"Even more exciting is the introduction of our zero-emission Ford Transit Connect Electric in 2011 and Focus Electric in 2012," Mr Wellsman added.

The Ford Fiesta Van was recently named Small Van of the Year at the What Van? Awards, while the Ford Transit took the top prize for minibuses.