New Renault Concept Unveiled - Alpine Vision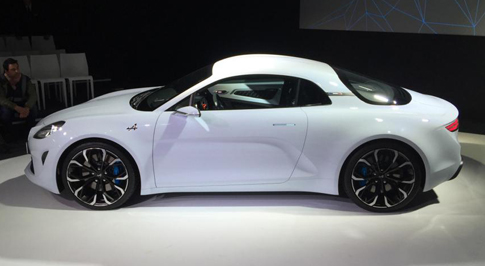 At an event in Monte Carlo, Renault's CEO Carlos Ghosn showcased the Porsche-rivalling Alpine Vision, a mid-engined two seater coupé. The car is expected to be unveiled to the public at the Geneva Motor Show this March. The concept car is a revival of the original Alpine series, which claimed multiple titles on the Monte Carlo Rally. The car will be released in 2017, weighing in at 1100kg with an engine cramming 300 horses under the bonnet, and is expected to cost over £40,000.
This isn't the first time the idea of reviving the Alpine range has been raised, with Renault initially seeking to bring it back in 2008, before the recession scuppered the French manufacturer's plans. Alpine's 50th anniversary was celebrated in 2012 with a concept car based on the racing Mégane, the Alpine A110-50, and last year the video game Gran Turismo featured a pixelated concept Alpine. Renault plan to release the Alpine as a series of sport models including an SUV, which is expected in 2018. The sports car is expected for the second quarter of 2017.