New SKODA Octavia Available with 2 New Powertrains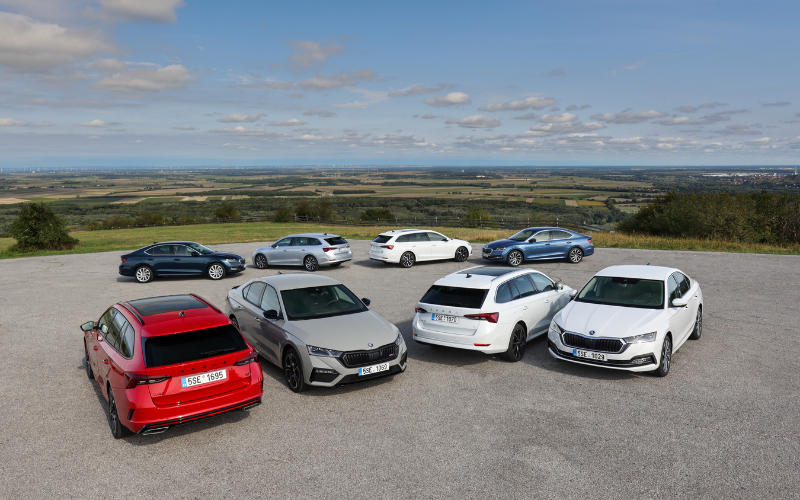 SKODA's bestselling model will now be available with a choice of two additional powertrains – Mild Hybrid and Plug-in Hybrid.
The new choice of powertrains, which are in addition to a traditional petrol and diesel option, significantly reduces the Octavia's CO2 emissions, delivering a sustainable alternative for UK drivers.
Christian Strube, SKODA AUTO Board Member for Technical Development, said, "When developing the new OCTAVIA, we focused from the outset on considerably reducing the amount of aerodynamic drag as well as the CO2 and NOx emissions even further. As a result, the choice of powertrains available for the new OCTAVIA is greater than ever before. The car can be ordered as an e-TEC that features the new mild hybrid technology, as one of two iV plug-in hybrids or as an OCTAVIA G-TEC which runs on eco-friendly natural gas. This way, we have achieved a significant boost in efficiency and sustainability, as well as the highest level of functionality and versatility. This means that the OCTAVIA, now in its fourth generation, impresses by providing just what our customers cherish so much."
Let's take a closer look at each of the new powertrain variants.
The Octavia e-TEC
The Octavia e-TEC is equipped with advanced mild hybrid technology and is the first model from SKODA to ever offer this.
The electric motor gives the fuel engine an electrical boost to deliver an efficient performance, and drivers won't have to worry about charging... the SKODA Octavia e-Tec recovers energy from braking to recharge the electric motor.
The mild hybrid option offers a smoother and quicker acceleration and reduces fuel consumption, as well as CO2 emissions.
The Octavia iV and Octavia RS iV
Both iV models are plug-in hybrids, which offer an all-electric range of up to 37 miles.
Combining a fuel engine and an electric motor, the plug-in hybrid option allows drivers to complete shorter journeys on zero emissions.
Unlike the mild hybrid model, the Octavia iV and RS iV do need plugged into a charging port, but this can be done at home or on-the-go. It takes 5 hours to reach 100% charge, but depending on the type of charger the model is plugged into, this time can be reduced to as little as 2 hours 33 minutes for 80% charge.
The benefit of the plug-in hybrid variant is that it enables shorter journeys to be completed on zero emissions, whilst still allowing drivers to go the distance more efficiently.
The new powertrain additions reduce emissions and offer customers the choice to choose the right one for their lifestyle.
The fourth-generation Octavia will also feature increased levels of active and passive safety, advanced connectivity and even more driver assist features. Customers will still be able to choose between an estate or hatchback variation, as well as three new sporty RS versions.
Head over to our newsroom for further updates and more news from SKODA.
View our latest SKODA Octavia deals