Nissan unveils Concept 2020 Vision GT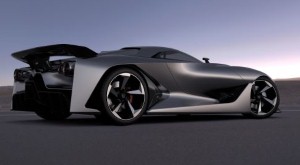 Nissan has revealed a virtual concept car that suggests the company has some ambitious plans over the foreseeable future.

Delivering a Batcar-like aesthetic, the Nissan Concept 2020 Vision Gran Turismo – which reveals its collaborators on the project – is the magnificent result of an open brief.

One of the key aesthetics is the vehicle's advanced aerodynamic body, which gives a realistic indicator as to how high-performance cars of this ilk may look in a few year's time.

The headlamps, which seem to sweep back as if in constant motion, wrap over the bonnet (which itself dramatically thrusts into the low-set grille).

"If this concept really does provide a glimpse into Nissan's future design language, we shouldn't have to wait too long to find out," said Jack Rix, news editor of Auto Express.

"Various company execs have already confirmed a new GT-R is under development, and sources close to Nissan have revealed it will use hybrid power."

Nissan has said in an official statement that the real world should be ready for a vehicle such as this, telling fans to "watch this space" for more exciting details.