Pauline Has A White Christmas Thanks To St Oswald's And Bristol Street Motors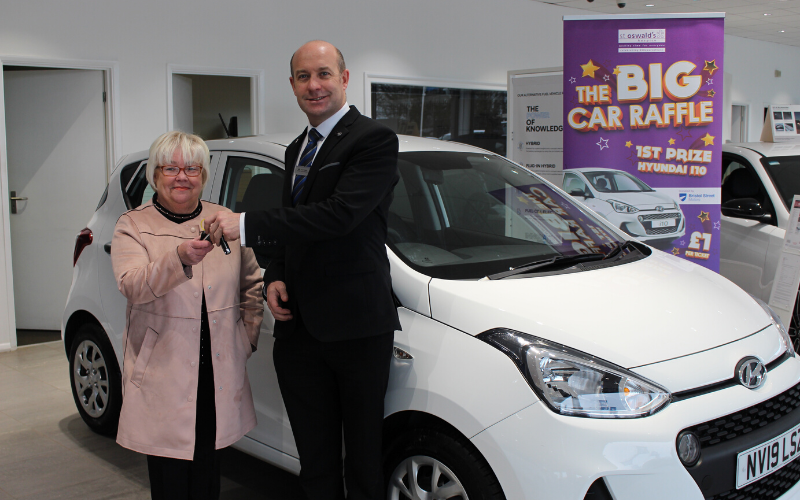 St Oswald's Hospice in Gosforth has drawn its BIG Car Raffle winners. In the 5 months running up to Christmas, the Hospice had been selling tickets for £1 to be in with the chance of winning three top prizes. The first prize was kindly donated by Bristol Street Motors Peterlee Hyundai which gifted the Hospice 2019 19' plate White Hyundai i10 1.0S. Total Business Group donated a new laptop computer and the Hilton Hotel in Newcastle Gateshead gifted an overnight stay with breakfast for two.
St Oswald's Chief Executive James Elam drew the winning tickets at the Hospices' annual Christmas market at the end of November. The raffle raised 41,000 pounds for St Oswald's.
Pauline Shone from South Shields was the winner of the Hyundai i10. Pauline met the St Oswald's team at Bristol Street Motors Hyundai Peterlee where she saw her new car for the first time.
She said: "I'm still rather shocked! When I got the call, I was sitting trying to think about what the prizes were as I had totally forgotten! I thought I'd won 10 pound or something small as I remember the lottery being on the back of the ticket, but when they said I'd won the car I couldn't believe it!
"I'd bought two tickets in October in Matalan in Sunderland and just forgot about it. Although I did leave the tickets on the side counter, it must've been fate as usually you scrunch them up somewhere or lose them in your bag, but mine were just sitting on the side waiting to be called.
"When you have a few sad things going on in the family, something like this is so uplifting. I always support hospices because I think it's such a good cause. I think everyone can be affected so it's really important to have the facility available. Hospices care for everyone; not just the person going through it but everyone affected by it. It's a difficult thing to think about but I know there's support around if I should ever need it.
"I'm still coming to terms with winning. I had only seen a picture of the car on the ticket but my neighbour has one and she loves it. She always had a big 4 x 4 but downsized and said it's the best thing she's ever done! It was clearly just my lucky day, it only takes that one ticket to win, just like the lottery. It's definitely come at a great time, like an early Christmas present."
Paul Walton, general manager at Bristol Street Motors Hyundai Peterlee, said:
"We're really proud to support the Big Car Raffle for yet another fantastic year. St Oswald's is an amazing charity which does wonderful things for the community.
"At Bristol Street Motors Hyundai Peterlee, we are passionate about supporting good causes and giving back to the community. We wish Pauline the very best for the future and hope she makes some wonderful memories in her new car!"
Sarah Tait, Community Fundraiser at St Oswald's Hospice said: "Bristol Street Motors have been fantastic supporters of our Big Car Raffle and this is the fifth year they have donated a car to us as first prize. We honestly can't thank them enough and it really is the star of our aptly named BIG Car Raffle. To have such an eye-catching prize and something worth such high value really does help St Oswald's in raising funds.
"We also can't forget Total Business Group and the Hilton Hotel too, for donating wonderful runner-up prizes. The BIG Car Raffle and other fundraising campaigns help us to raise 7.5 million each year to continue to provide care and support in the North East. We'd like to say a huge thank you to everyone who bought tickets, made donations and got involved with the BIG Car Raffle this year. Thank you so much and we look forward to the raffle in 2020!"