QUIZ: How will you spend your £500?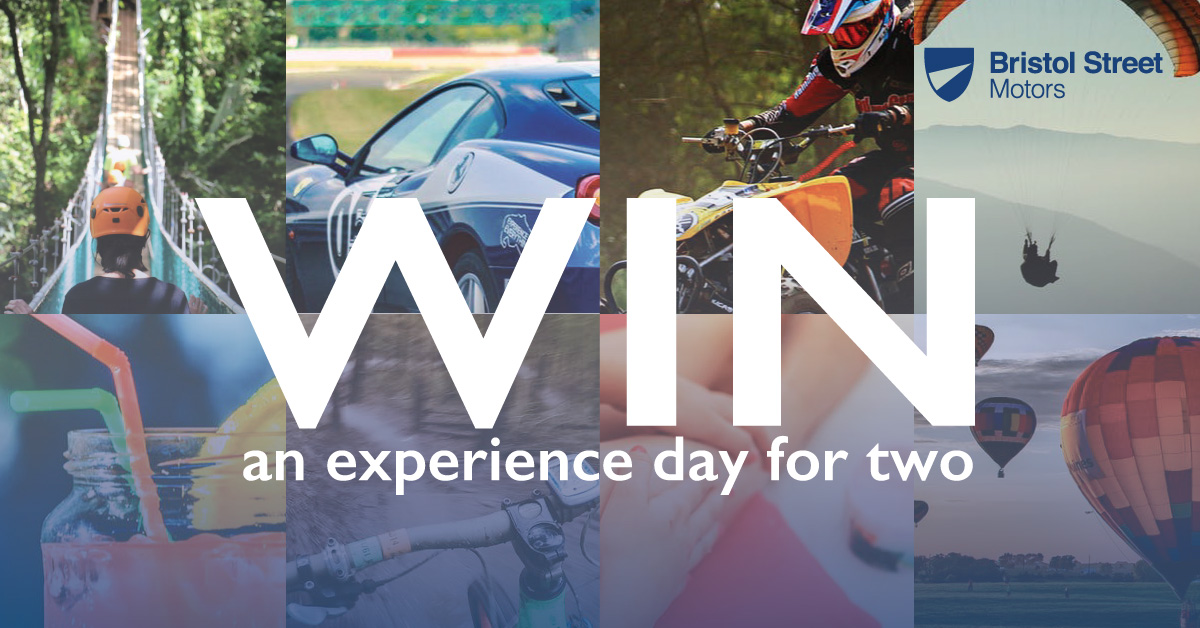 The world is full of many wonderful sights and experiences to behold; with over 500 million miles to explore, it's a bucket list in itself! You'd be forgiven if you think that enjoying all the world has to offer could cost a pretty penny – but it's easier than you think, as we're offering £500 with your brand new car at Bristol Street Motors!
TAKE OUR QUIZ
So what will you spend your £500 on? From a luxury spa day to an adrenaline-fuelled race track experience, we've put together a few suggestions on how to celebrate your new car!
How about a trip away?
From the beautiful landscapes of the Lake District to the romance of Paris, a night or two away could be the perfect new car honeymoon!
Driving Experience
An ideal day out for any petrol-head! Whether it's a day spent flying around the corners of Silverstone, or an off-road thrill in the ultimate rally car, you'll struggle to find a more exciting way to spend your £500!
Luxury Spa Day
Everyone deserves some time to unwind, and there are few better ways to do so than a luxury spa day! Treat yourself to a haven of tranquillity: enjoy some alone-time or share the experience in an indulgent day for two:
Family Trip
As the summer holidays always approach us faster than we expect, now is a good time to plan how we keep the kids entertained! From an exhilarating day at a theme park (where the adults are of course entitled the same fun as the kids), or a day spent filling your phone's memory with amazing photos at the zoo, it's safe to say that £500 will guarantee your family a highlight of the Summer they will never forget!
Hot Air Balloon Ride
It may not be the obvious choice, but if you have a sense of adventure, taking the skies in a hot air balloon could be the exhilarating trip you're after! You'll be able to enjoy the breath-taking scenery with some truly stunning panoramic views of your area… Those with a keen eye for photography will want to take their camera, as you'll fail to describe the views without some snaps to share!
Cooking Class / Michelin Dining
Whether you're looking to become a master of the kitchen, or just like treating your pallet to the many wonderful flavours of the World, could your £500 contribute to the meal of a lifetime? With many amazing cooking classes on offer or a table in one of the country's best restaurants awaiting your reservation, any food lover would be silly to miss out on such a treat!
VIP Tickets to an Event
Whether you're supporting your favourite team at a football match, splitting your sides at a comedy show, or even appreciating the arts of a West-End classic at the theatre, why not go 'all out' with the full VIP experience? From private boxes to special meals and inclusive drinks, find yourself the perfect VIP package and make your night extra memorable.
Deluxe Personal Shopper Experience – House of Fraser
You know that feeling when you just NEED to revamp your wardrobe? Indulge in a very special retail outing with this Deluxe Personal Shopper Experience at House of Fraser. You'll receive invaluable fashion and style tips from an expert personal shopper and receive a £450 gift card to spend in store on anything you like.
Charity Donation
With so many wonderful charities doing so much amazing work, we'd like to show some appreciation for 'ben' and 'Children in Need'! If you'd like to find out more about these charities, and show your support with a donation, you can do so on the following links: http://www.bbc.co.uk/corporate2/childreninneed