SEAT Leon SC gets debut at London Motorexpo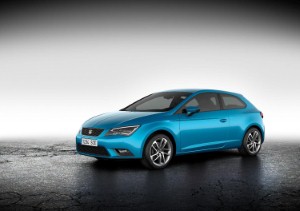 SEAT gives its new Leon SC its UK debut at the London Motorexpo this week, with the new three-door Sports Coupe set to be a headline attraction when the event kicks off at Canary Wharf today (June 10th).

Created to provide the practicality of a hatchback with the performance and aesthetic of a coupe, the Leon SC is expected to wow audiences at the event ahead of its first deliveries in July.

It has a low roofline, short wheelbase and a sloped rear boot, which together help to give the Leon SC the SEAT 'arrow head' design at its core.
Yet it still maintains a spacious cabin with plenty of headroom, a 380-litre boot and five comfortable seats, features that Leon drivers have become accustomed to.

The Leon SC will be available from £15,370 and is excellent value for money thanks to the fantastic specification, which includes air conditioning, sports-shaped front seats, a touchscreen display, seven airbags, remote central locking, anti-lock brakes and electronic stability control.