SEAT lifts the lid on new Leon variants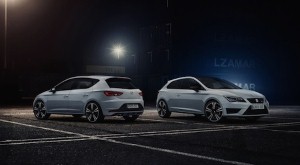 Following on from the success of SEAT's flagship Leon model, the brand has unveiled two new editions of the hatchback.

These come in the shape of the Cupra and Cupra 280, with the latter described as the most powerful series production model the manufacturer has ever delivered.

The 2.0-litre engine in the 280 provides razor-sharp responsiveness in addition to quality efficiency, with the top specification achieving 42.2 mpg and emitting just 155g/km of CO2.

Despite its excellent efficiency, the car still performs, reaching 62mph from standing in just 5.7 seconds, while a top speed of 155mph can be achieved - with all Cupra versions capable of this. The standard SC Cupra is no slouch either, hitting the 62mph mark in just 5.9 seconds.

Dr Matthias Rabe, vice president of SEAT S.A for research and development, said: "The new Leon Cupra is pure SEAT: emotion and performance, design and dynamics combine to deliver driving fun mile after mile. State-of-the-art technology is evident in its enormous precision, but also in its compelling efficiency."

He went on to say the car is a "sports car for the every day" thanks to its versatility and dynamism that comes with the performance.

Another spokesperson from SEAT, chief executive officer Jurgen Stackmann, said the Cupra is "a major leap forward" for the brand.

First deliveries of the car in the UK are expected for March this year, with order books open on January 8th.