SKODA Celebrate World Premiere of the New SKODA ENYAQ iV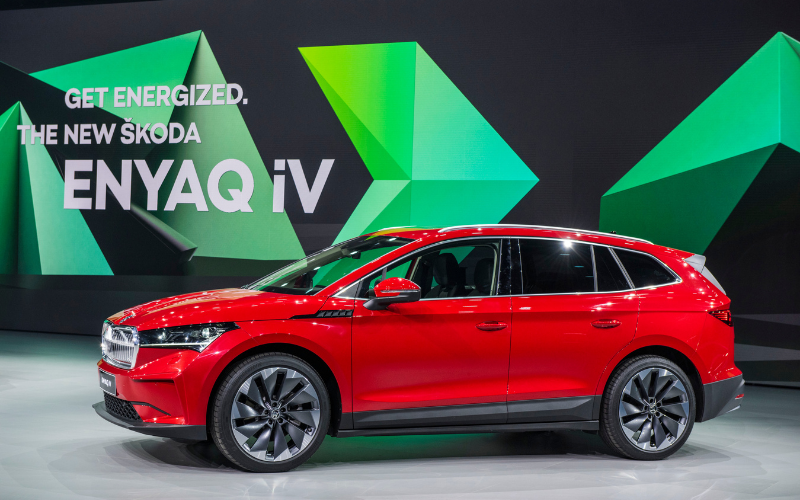 SKODA's most important model of the year was finally unveiled in Prague, on September 1st.
The ENYAQ iV is the first electric SUV produced by SKODA, and will join the brand's electric line up, which already includes the CITIGOe iV and the Superb.
It was the first event of its kind to take place as a live show and as a virtual show, enabling people from around the world to tune in and watch the big reveal from the comfort of their own homes. The use of 360-degree cameras created a virtual reality for viewers, providing them with a feeling of being in the studio.
Whilst rock band, Inhaler, took to the stage, guests and journalists watched in awe as the ENYAQ iV made its first public appearance, driving into the spotlight for its world premiere.
Thomas Schafer, chairman of the board of management, explained: "The ENYAQ iV is SKODA at its best."
The exterior design resembles the bold, striking style of the iconic Octavia, whilst the interior cabin provides space like the KODIAQ. It's practical, it's stylish and it gives SKODA drivers the chance to enjoy the remarkable driving experience that all SKODA models are renowned for, whilst releasing zero emissions.
What's more, SKODA has also utilised sustainable materials to head up the design direction.
Commenting on the materials used, Norbert Weber, Head of Interior Design, said: "In one Design Selection, for example, the seat covers are made of 40 per cent new wool and bear the Woolmark Company's seal. The remaining 60 per cent of the blend is polyester from recycled PET bottles. These covers have a unique feel and ensure a pleasant seating climate. Another example is the leather, which is produced in a particularly sustainable way, using an extract from olive tree leaves instead of chemicals for tanning."
Delivering a range of up to 316 miles and offering convenient charging options for everyone, either at home or on-the-go, the SKODA ENYAQ iV is an SUV designed for everyday living.
Watch the World Premiere: