Solberg sets the pace in Mexico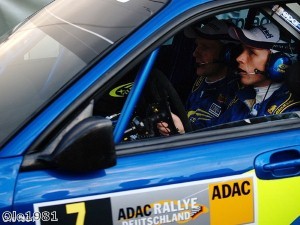 Petter Solberg has put pressure on Citroen Ds3 drivers Sebastien Loeb and Mikko Hirvonen in Mexico.

The Ford World Rally Team driver pushed his WRC Fiesta to first in the qualifying stage of round three of the World Rally Championship (WRC) in Mexico.

Eight-time world champion Loeb has won the Guanajuato event five times in a row and is looking to extend that run over the weekend.

And while the Frenchman was expecting a challenge from new team-mate Hirvonen, he will not have expected Solberg to have performed so strongly in qualifying.

Showing the competition between the two teams, Jari-Matti Latvala was disappointed to have rounded out the top four in his Fiesta RS WRC.

Solberg gave himself the best possible start to the stage by beating Hirvonen by a clear second across the 5.8km test.

Loeb finished a further second back after making a mistake when getting away from the start line.

Having seen this, Hirvonen was in confident mood heading out and said: "I thought I could take him [Loeb] on this stage. I made one small mistake, but when you are driving at this altitude you can lose so much time."

However, it was Solberg who made the most of the slip and used it as inspiration not to make any mistakes of his own.

"I was really trying hard not to make any mistakes this morning, but I really tried hard. That was good fun," he commented.

The qualifying results hint at a tight battle in Mexico, with all four drivers looking to reach the top of the driver standings and boost their chances of lifting the title.

Loeb currently leads the pack with 39 points followed by Hirvonen on 32 and Solberg on 29.

However, Latvala could be the dark horse having pushed his way into fourth on 26 points despite not scoring in the season opener in Monte Carlo.