The CUPRA Formentor is Shortlisted for European Car of the Year 2021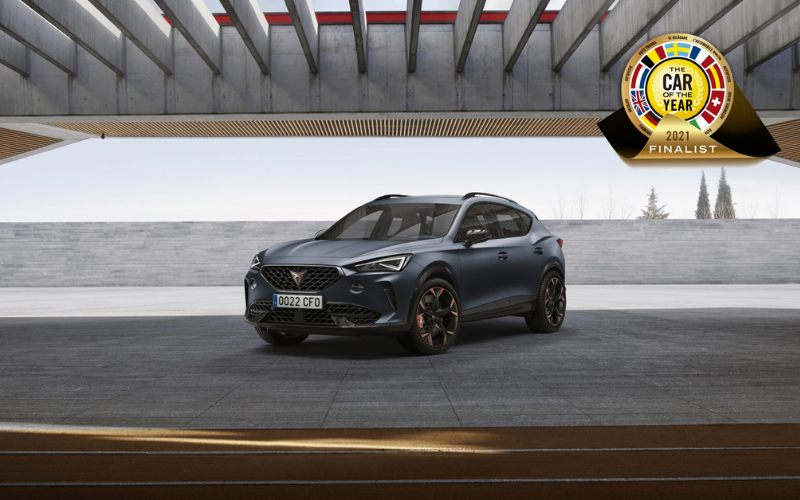 CUPRA's first bespoke model, the Formentor, has been selected as one of the finalists for the European Car of the Year 2021 award.
The CUPRA Formentor will go up against six other nominees to see which model will come out on top and be crowned European Car of the Year for 2021.
The aim of the Car of the Year award is to find the most outstanding car on the market, with 60 judges from 23 European countries all judging the seven finalists on performance, design, price point and other automotive qualities.
Wayne Griffiths, President of CUPRA and SEAT, commented on the CUPRA's shortlisting and said: The CUPRA Formentor's nomination in this year's Car of the Year award is a tribute to the hard work and dedication of the brand's entire team. The CUPRA Formentor, our first uniquely designed and developed model, is a real game-changer: It brings a dimension to the market that hasn't been seen before, helping make the brand more visible and desirable. With the CUPRA Formentor, we are joining a new growing segment in Europe."
The CUPRA Formentor is already in our showrooms, with orders books now open to customers. It is available with a range of powertrains, including two plug-in hybrid options, giving customers the chance to choose how they want to drive, and features state-of-the-art technology and delivers a first-class performance.
It's no wonder the Formentor has been nominated for this prestigious award, but we will have to wait until 1st March 2021 to see if it drives to the top spot!
For more information about the CUPRA Formentor, enquire online or give your local CUPRA dealership a call today.