The Ford Mustang Mach 1 is Coming to the UK
Ford has announced that the Mustang Mach 1 will be coming to the UK, with first deliveries expected in 2021.
It's the most extreme version of the Mustang range and it offers improved handling and an optional 6-speed manual gearbox for the ultimate sports car experience.
Matthias Tonn, Mustang Mach 1 chief programme engineer for Europe, said: "The original Mach 1 delivered the ultimate in production Mustang performance and proved itself with success in motorsport. The new Mach 1 is the most capable Mustang ever to reach Europe, with the track-ready ability and a unique style that is more than worthy of wearing such a legendary badge."
Designed to deliver exhilarating performance, the Mustang Mach 1 features a version of the 5.0-litre V8 and produces a whopping 454bhp.
It's also equipped with an auxiliary engine oil cooler, which is found in the GT350, improving performance, especially when on the race track. The Active Valve Performance Exhaust system ensures the classic V8 sound can be heard far and wide, to really get your engines revving.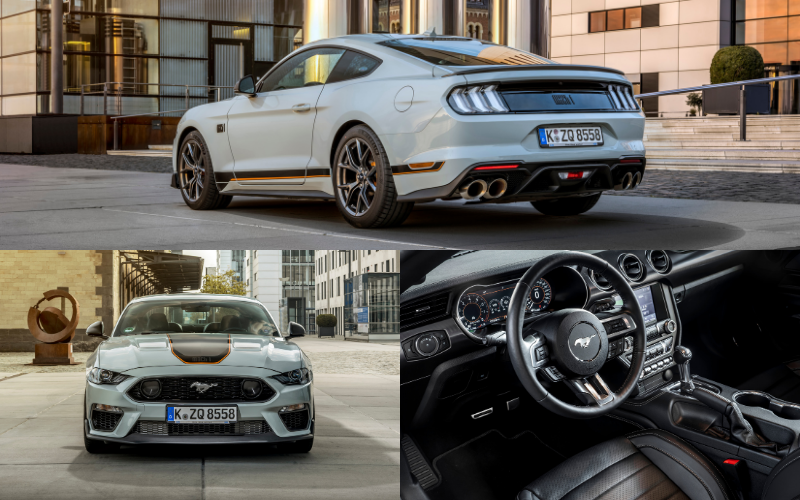 Ford has also updated the exterior design to create a more aerodynamic silhouette to improve overall performance. The new design features include a two-piece upper grille, bold stripe detailing, a front splitter and 19-inch alloy wheels, with downforce increased by 22% compared to a traditional Mustang GT, making this Mustang travel faster when cornering.
The suspension has been fine-tuned and features stiffer front springs and anti-roll bars, with subframes taken from the Shelby GT350 and GT500 for ultimate control and smoothness.
Pricing is yet to be confirmed, but UK orders books are expected to open early next year, with first deliveries to commence in Spring 2021.
Stay tuned for more information and keep checking our newsroom for all the latest Ford updates.