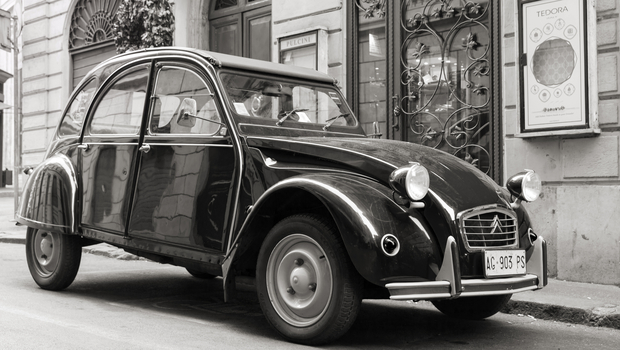 French cars have always reserved a special place in our affections, balancing superb mechanics with a chic, minimalist flair to become the first choice of every city-dweller seeking to add a joie de vivre to their drives.
Few French car manufacturers are more reputed or classic than CitroŽn. Read on to learn about the fascinating story of Andre CitroŽn, how CitroŽn grew from the smouldering ruins of post-war France into one of the largest, most influential automotive companies of all time.
A country in chaos
Ironically, CitroŽn's roots are intrinsically tied to those of another French motoring powerhouse.
During World War I, factories of all types across Europe were commissioned to support the war effort. Prior to the outbreak, Andre CitroŽn was a highly respected mechanic and the director of Mors, a French car manufacturer that ranked as a market leader at the turn of the century. After the start of the war, however, CitroŽn became the overseer of a vast munitions factory of 35,000 workers, which was owned of all people by Renault!
After four years, and as the war began to wind down, Andre CitroŽn knew that the demand for munitions would soon be over. He, his factory and his staff required a new project. What did he come up with, you ask? Introducing.
The CitroŽn Type A
The vehicle that Andre et al devised was simply named the 10 HP Type A. This was an automotive with a water-cooled 1327 cc four-cylinder engine, outputting 18hp, enjoying maximum speeds of 40mph. Made first available for purchase in 1919, over time the car became adapted to several carriage options: there were three Torpedo models (a four-seater and three-seater tourer and a sport variants), a Conduite Intťrieure (principally, a saloon) and a light truck!
CitroŽns passion for publicity
One thing that Andre seems to have loved as much as cars was marketing, displaying a long-lasting appetite for advertisement: he sponsored races, rallies and expeditions across countries throughout the globe; he turned the CitroŽn factory, on the bank of the Seine, into a tourist attraction; and, most notably of all, he converted the Eiffel Tower into a colossal, marketing lightshow, with 250,000 light bulbs and 600 kilometres of electric cable combining to display a luminous CITROEN down the side of the building. Its unsurprising, then, that by the advent of the 1930s, CitroŽn were the fourth-biggest car manufacturer on the planet. On the way, CitroŽn returned to his roots and purchased his former company of Mors, joining CitroŽn's vivid ranks.
Tragedy hits
CitroŽn were a visionary company, led by a suitably visionary entrepreneur. However, there was an Icarian aspect to their innovation; by the middle of the 1930s, the entire operation looked set to crumble into disarray.
CitroŽn over-invested in a prototype vehicle known as the Traction Avant the front-wheel drive. It was a wholly revolutionary vehicle that looked set to pioneer an entirely new system of motion.
CitroŽn worked with such passion on the Traction Avant that they ultimately overspent. In 1934, they were officially declared bankrupt.
The lights come back on
You'll be pleased to hear that the pioneering front-wheel drive didnt lead purely to backward steps.
CitroŽn were bought out by Michelin, the tire manufacturer; sharing CitroŽn's vision and eye for the future, they continued the Traction Avant's development. By the end of the 1930s, it ranked as one of France's most successful vehicles; in France, it's still known today as "Reine de la Route", or, to us, "the Queen of the Road".
Though Andre CitroŽn died in 1935 of stomach cancer, he did so with his company's fortunes truly back on the rise; his funeral was an enormous Parisian ceremony, as the people of France bid their last goodbyes to one of the nations most well-loved, iconic automotive pioneers.