The Worlds Most Bizarre Concept Cars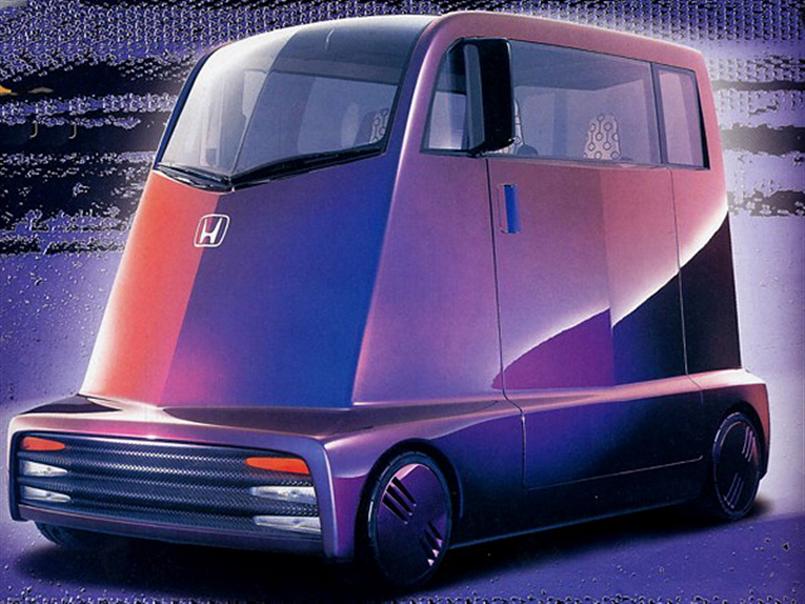 Concept cars are a chance for car manufacturers to prove themselves as forward thinking, original and industry leaders in innovation – think of a concept car show as a fashion catwalk, except with more metal, oil and rubber. Actually, probably about the same amount of rubber.
With stiff competition every year to produce thrilling new concept cars, it will come as no surprise that designers occasionally succumb to the pressure, go a bit loopy, and end up proudly presenting their gleaming new design to a chorus of laughter.
Below we have compiled a list of the most baffling concept cars that, thankfully, never made it to production. Prepare yourself, its going to get weird.
BMW 328 Hommage
Looks like: An absolutely furious beaver.
The Facts: The BMW 328 Hommage was unveiled in 2011 on the 75th birthday of the BMW 328 Touring Coupe. The tribute boasts a 3.0 litre engine, carbon fibre-reinforced plastic bodywork, and a minimalist dash like its race car grandfather. Sounds great. Unfortunately, this car gains a place in the list due to its giant set of gnasher-like grills and dead-cartoon eyes/headlights. Sorry, BMW, you just can't unsee it.
1965 Dodge Deora Concept
Looks like: There's a bonnet thief in the neighbourhood.
The Facts: The 1965 Dodge Deora actually won awards, which goes a long way towards proving award ceremonies dont always get it right. Lacking any side doors, the only way into the car is through the front, which opens up like a car boot, which means that every time you want to get in the car you have to shuffle rear-first into your seat. Smooth.
1950 Martin Stationette
Looks like: A giant walnut.
The Facts: The Martin Stationette was designed in 1950 as a last ditch attempt of inventor James Martin to create a prototype 'economy car of the future.' Nobody was convinced by the rear wheel drive, suspension-less wooden frame and blistering 60 mph top speed, and so the car was never mass produced and the prototype was presumably left to grow into a full size oak tree.
Mazda Miata Mono-Posto, 1999
Looks like: A ketchup stain on wheels.
The Facts: Sick of annoying friends asking for rides? Need more 'me' time? Why not make it physically impossible for anyone to ever bother you again, by completely removing the passenger seat and boxing yourself in. Lightweight, with 190 horsepower and a Formula One style steering wheel, this is the car for you if you like going fast and hate everyone.
Rinspeed X-TREM
Looks like: A Transformer. That transforms into a Croc.
The Facts: Technically a pick-up truck rather than a car, this car is the brainchild of Switzerland based Rinspeed Designs, designed by the companys director/resident mad scientist Frank Rinderknecht. The X-TREM boasts a V8-Cylinder 5439cc engine, onboard computer, waterproof upholstery, oh, and your very own hovercraft complete with a mini crane to winch you down gracefully into the sea. Heaving your cumbersome hovercraft out to the beach will never be a problem again!
1957 Studebaker-Packard Astral
Looks like: The Torture Chamber of Tomorrow!
The Facts: Unveiled at the 1958 Geneva Motor Show, this concept car is the peak of 1950's space race hyperbole. The Astral was packed with all kinds of exciting sounding but vaguely defined technology, such as an atomic engine, a single gyroscopically balanced wheel, and a 'protective curtain of energy', presumably to keep the Jetsons safe as they zip around Orbit City.
Tang Hua Detroit Fish
Looks like: A Teletubby that has witnessed terrible, terrible things.
The Facts: Chinese company Tang Hua offered up this cute little monstrosity in 2008. Besides its being shaped like a Minions behind, the bizarrely named Detroit Fish also claims to be amphibious despite having gaping holes where the doors should be. Best bring your wellies.
Honda Fuya-Jo
Looks like: A Dalek on a hen night.
The Facts: Hondas disco toaster was presented at the 1999 Tokyo Show and was designed for ferrying around party animals who demand the full excitement of night life, apparently completely forgetting the whole 'no drink driving' thing. The dash and steering wheel are designed to resemble a DJs turntables, and the minimalist seats are basically a backrest with a seatbelt, allowing for maximum partying. The interior is spill proof, too, so you dont have to worry about all the Jägermeister flying overhead as you drive.
Peugeot Moovie
Looks like: A beheaded C3PO.
The Facts: In 2005, Peugeot asked the world to "draw the Peugeot of your dreams for the near future". To give it credit, its far from the goofiest car on the list; agile and city-friendly with an elegant and spacious interior. Its just well how do you go uphill in it? Empty, the car weighs a mere 500kg. All it would take is a slightly hefty pair of occupants to send the car glamorously tumbling backwards like a massive metal Zorb.
Aurora Safety Car
Looks like: One of those hideous fish from the deep ocean.
The Facts: Father Alfred Juliano, a Catholic priest, designed the Aurora in 1957 to be the pinnacle of car safety. The car's 'astrodome' roof and bulbous windshield was designed so rain would roll off it (this was pre-windscreen wipers). Instrument panels were padded with foam, the spare tire was mounted in the front to absorb impacts, and the seats could swivel round in the event of a collision. How that would be useful, we dont know.
Due for unveiling in 1957, the car broke down 15 times on the way to its own press conference and was towed to a total of 7 different garages en-route. After chugging into the conference hours late, barely functioning, and looking like a shark thats had its nose punched in, the public were unsurprisingly uninspired, and none were ever sold. If you fancy punishing your eyes, you can view the car fully restored at Beaulieu Motor Museum in Hampshire.
Whew, what a ride. The horror show is over. Now, let us guide you back to normality with some cars that are a little easier on the eyes.