Top 5 Cars for Dog Owners
Looking for a new car to cater for all members of the family, including the pooch? You'll want something that's safe, comfortable, has a large boot space and plenty of storage options.
Here we've pulled together our top five dog-friendly vehicles.
Ford Focus Estate
The Ford Focus is one of the best-selling cars in the UK. The estate version in particular makes use of every centimetre inside, meaning driver and passengers will have ample room in the front and back.
In the rear, the seats split 60/40 and fold flat to maximise space even further. The adjustable load floor in the boot can be raised to give hidden storage underneath, or lowered to increase space.
Plus, it's more stylish than ever before - so you and the dog(s) will always arrive at your destination looking the part.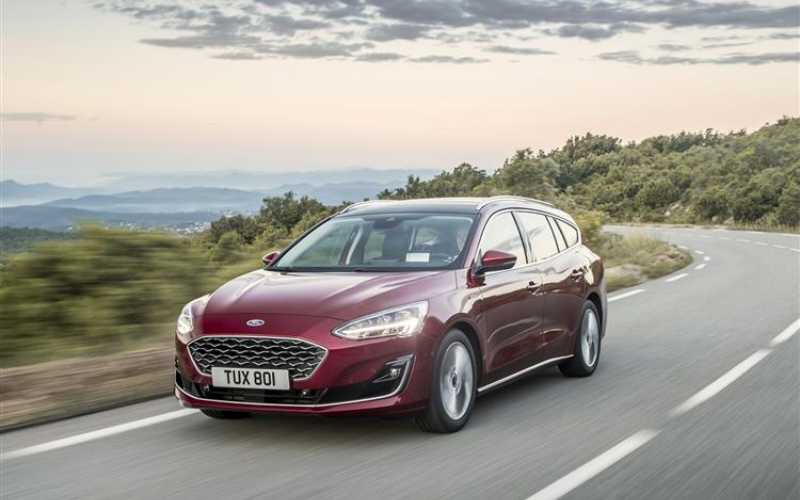 - Euro NCAP Safety Rating: 5/5
- Boot capacity: 541 litres to 575 litres | 1,576 litres to 1,620 litres with rear seats folded down
Nissan X-Trail
This bold SUV is built for family adventures. The amount of space inside is impressive, with a roomy cabin creating maximum comfort for all. All five seats slide forwards, backwards and can recline, which means owners can optimise the interior set-up depending upon their specific requirements – whether that's for adults, children or dogs. For example, if you need more space in the rear the seats can slide back, and if you need more boot space, they can slide forwards. There's also plenty of interior storage options for all your belongings.
Additionally, the doors open to almost 180 degrees which makes it incredibly easy to get in and out of the car.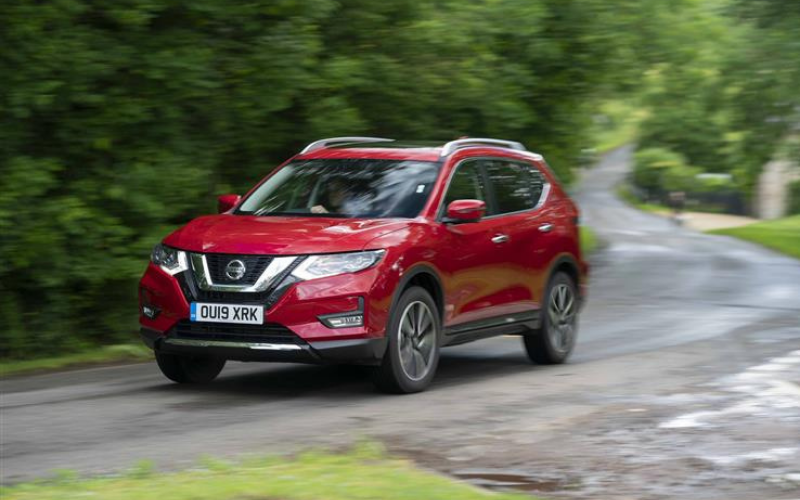 - Euro NCAP Safety Rating: 5/5
- Boot capacity: 565 litres | 1,996 litres with rear seats folded down
Skoda Superb Estate
With the spacious Skoda Superb Estate, you're guaranteed to travel in style and comfort. You'll be greeted with wide opening doors and low sills which makes access into and out of the vehicle an absolute breeze. Inside, the cabin is roomy and there are multiple storage compartments to help pack away your belongings.
The boot space is substantial, and can accommodate up to 11 suitcases, therefore your dog(s) should have no problem fitting in! Plus, there's handy accessories in the rear such as a rechargeable torch and two plastic dividers which attach to the floor to help secure loose items.
On SE L and Sportline Plus models, a powered tailgate option could also prove handy if you need to open up the boot when your hands are full of leads, coats and dog treats.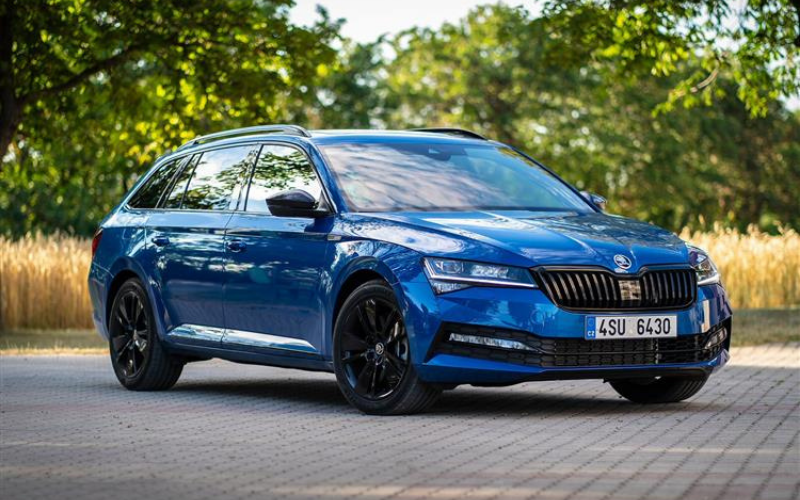 - Euro NCAP Safety Rating: 5/5
- Boot capacity: 510 litres – 660 litres | 1,800 litres – 1,950 litres with rear seats folded down
Peugeot Rifter
The robust and supremely practical Peugeot Rifter has a huge amount of space to carry your family and your four-legged friends. The expansive boot has a wide opening and no load lip, which means your dog(s) can jump in and out of the car at ease.
Whilst this vehicle may look van-like, it has been designed specifically to carry people and therefore features a number of practical elements, including easy back folding seats and sliding rear doors.
There's also so many storage options on board, including aeroplane-style overhead compartments, and plentiful room in the centre console, door bins and gloveboxes.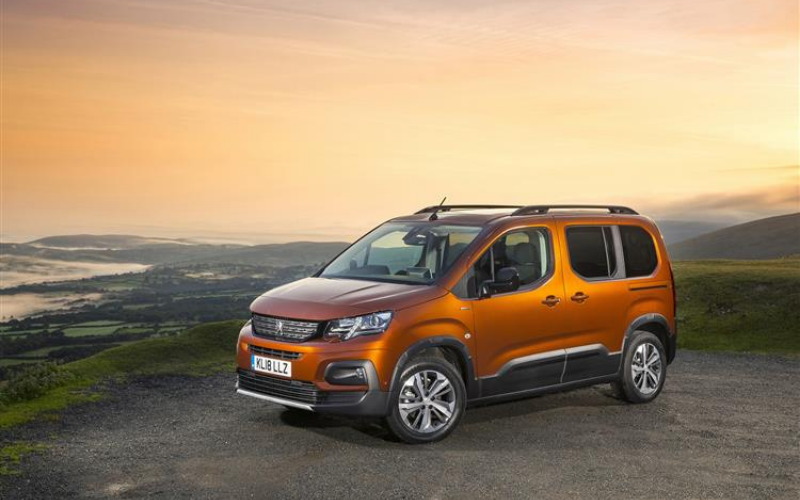 - Euro NCAP Safety Rating: 4/5
- Boot capacity: 775 litres | 1,355 litres with rear seats folded down
Citroen Grand C4
The versatile and spacious Citroen Grand C4 is a well-equipped MPV, with lots to offer the family.
It can transform from a huge booted five-seater, to seven seated people carrier in a few simple moves. The second-row seats can slide back and forth individually and both the second and third rows can be folded flat. This means children, their bags and your dog(s) can slot in in whatever combination they need.
With the back seats folded away, there's a large boot space with a flat load bay and the opening is low enough for dogs to easily climb in and out. Top spec models also have the option of powered tailgate if you need to open the boot door when you've got your hands full.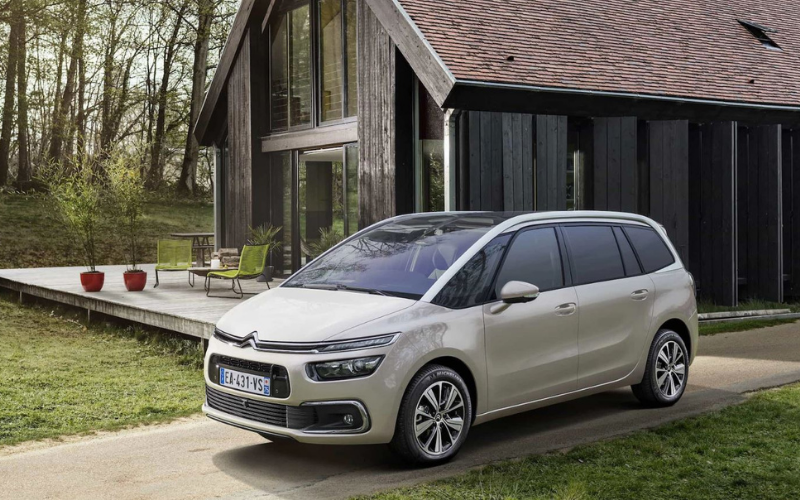 - Euro NCAP Safety Rating: 5/5
- Boot capacity: 165 litres, 2,181 litres with rear seats folded down
We hope this guide has helped you think about your options for your next dog-friendly vehicle. Browse our full range of vehicles, or contact your local dealer if you'd like any further assistance.