Vauxhall releases Snow Socks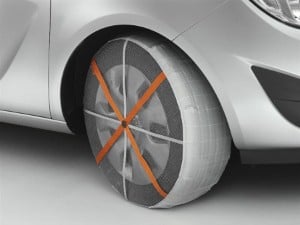 Vauxhall has released new winter driving accessories that could improve the safety of its vehicles.

The highly effective Snow Socks completely cover a car's tyres in order to make driving in snow and ice safer and easier.

Approved by global safety standards organisation TUV, the products are made from textured fabric that sticks to snow, optimising grip on the road.

The company released the accessories after it discovered that insurers paid out £395 million to UK drivers in 268,400 insurance claims during December and January 2009-10 due to cold weather.

Sophie Thomas, Vauxhall accessories manager, stated: "Snow Socks are a perfect solution. They're easily fitted and stored and, if used according to the guidelines, will last for years.

"It is important to be better prepared for whatever this winter will throw at us."

Snow Socks are now available from Vauxhall retailers and can be used on all Vauxhall models.

In other news, this week (November 24th) saw Vauxhall announce the redesigned Corsa, set to be released in 2011.